'Monster Trucks' Trailer: Turns Out The Title Is Extremely Literal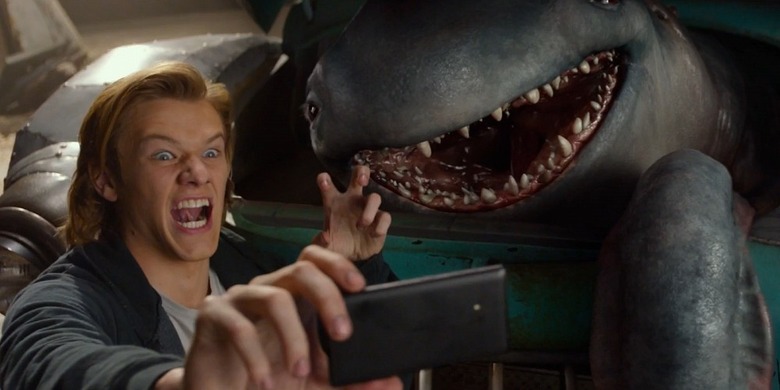 Monster Trucks' road to the screen has been a long and winding one. Originally put into development in 2013, it finished shooting in 2014 for release in summer 2015... only to be delayed to Christmas 2015, and then to spring 2016, and then all the way to early 2017. But Paramount is finally ready to offer us a little peek of what's in store. And what's in store is far weirder than we would have guessed.Lucas Till, who can currently be seen playing a middle-aged man in X-Men: Apocalypse, stars as a teenager named Tripp, who befriends a squishy subterranean creature that lives in and powers his junky old car. Yup, turns out the title "Monster Trucks" is very, very literal. Jane Levy, Holt McCallany, Thomas Lennon, and Danny Glover also star. Chris Wedge directed. 
We've heard so little about Monster Trucks in the past couple of years that I'd probably have forgotten this film existed at all, if it weren't for the periodic updates on the film's release date. After seeing that trailer, I won't make that mistake again. This thing looks insane... but weirdly kind of charming? Maybe? I'd assumed Monster Trucks would turn out to be just another Transformers ripoff, and it kind of is — it's got the same "boy and his sentient car-monster" premise as the first film. But there's way less mass destruction and, surprisingly, way more heart. If you're not turned off by the silly tone, this looks like it could be a fun ride.
Monster Trucks arrives January 13, 2017. Also starring are Barry Pepper, Amy Ryan, and Rob Lowe.
Looking for any way to get away from the life and town he was born into, Tripp (Lucas Till), a high school senior, builds a Monster Truck from bits and pieces of scrapped cars. After an accident at a nearby oil-drilling site displaces a strange and subterranean creature with a taste and a talent for speed, Tripp may have just found the key to getting out of town and a most unlikely friend.
Melding cutting edge visual effects and state-of-the-art CGI, Monster Trucks is an action filled adventure for the whole family that will keep you on the edge of your seat and ultimately touch your heart. January 2017 in theatres and RealD 3D.