Dory After Dark: Finding Nemo/Dory Double Feature Event Announced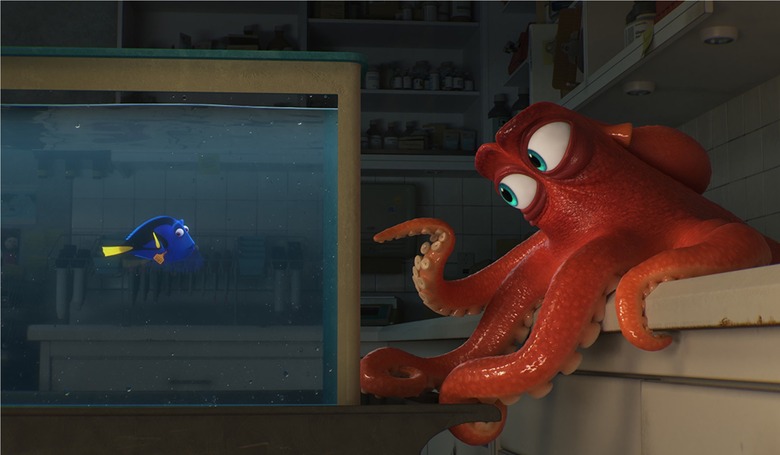 Disney has announced that they will be celebrating the theatrical release of Finding Dory with a spacial Dory After Dark event in 90 movie theaters which will include a double feature of Finding Nemo and the new sequel, alongside some swag. Hit the jump to find out more about the Dory After Dark events and where you can buy tickets.
The Dory After Dark events will take place on Thursday June 16th 2016, the day before Finding Dory officially opens in theaters. The one-night event will take place at 90 locations across North America and will include a screening of both movies and guests will receive some Finding Dory swag: a Dory After Dark reusable bag and an "I Speak Whale" button. I'm not sure how many people reading /Film necessarily care about this but there will also be custom Snapchat filters available to make your social network friends who didn't buy tickets jealous.
Dory After Dark Screening List
Here is a complete list of screening locations for Dory After Dark. Please note that the times of the screenings will vary by location and that you might want to act fast as tickets are on sale now.
Huntington Beach Bella Terra 20 + XD
San Jose Oakridge 20 + XD
ALISO VIEJO STADIUM 20 & IMAX
VALENCIA STADIUM 12 & IMAX
HACIENDA CROSSINGS STADIUM 20 IMAX
Carefree Circle 16 + IMAX
DENVER PAVILIONS STADIUM 15 & RPX
BRANDYWINE TOWN CENTER 16
SOUTH BEACH STADIUM 18 & IMAX
WATERFORD LAKES STADIUM 20 & IMAX
PARK PLACE STADIUM 16 & RPX
MALL OF GEORGIA STADIUM 20 IMAX & R
ALIANTE STADIUM 16 & IMAX
NEW ROC STADIUM 18 IMAX & RPX
BRIDGEPORT VILLAGE STADIUM 18 & IMA
OPRY MILLS STADIUM 20 IMAX & RPX
GREENWAY GRAND PALACE STADIUM 24 &
SPRINGFIELD TOWN CENTER 12
THORNTON PLACE STADIUM 14 & IMAX
How excited are you for Dory After Dark? Tell us in the comments!