Spider-Man Animated Movie Will Focus On Miles Morales?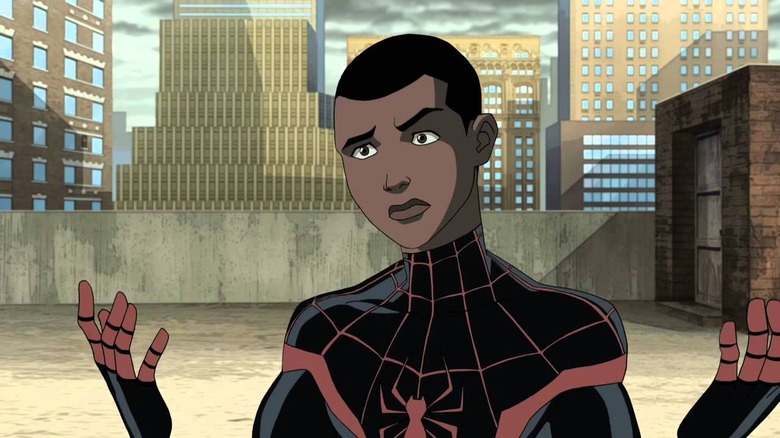 Marvel Studios' Spider-Man: Homecoming is gearing up for production, but that's not the only Spider-Man project in the works. Yes, the yet-to-be-titled Spider-Man animated movie from Sony Pictures Animation is scheduled to hit theaters in 2018, a year after Jon Watts' live-action movie.
I'm sure The LEGO Movie/21 Jump Street helmers Phil Lord and Chris Miller have tried in many ways to differentiate their animated movie from the MCU entry coming in 2017. Now a new rumor claims that one of the ways they are approaching the franchise differently is in the identity of the webslinger. That's right, the latest claim is that the animated Spider-Man movie will not focus on Peter Parker but instead Miles Morales, the teenage half-black half-Puerto Rican Spider-Man who was created in 2011. More details on the possible Miles Morales Spider-Man animated movie after the jump.
Heroic Hollywood broke the news, claiming that their sources are telling them Miles Morales will be the focus of Sony Pictures Animation's Spider-Man animated movie.
Miles Morales was created by writer Brian Michael Bendis and artist Sara Pichelli, drawing inspiration from both President of the United States Barack Obama and actor Donald Glover's internet campaign to be cast as Spider-Man in the last big screen reboot of the character. Here's some more information on the character from Wikipedia:
Morales was born and raised in Brooklyn, New York City, the 13-year-old son of an African American father and a Puerto Rican mother. Axel Alonso has described Miles as an intelligent nerd with an aptitude for science similar to his predecessor, Peter Parker. The character made his debut in the fourth issue of the Ultimate Fallout limited series, which was released on August 3, 2011. ... In contrasting Miles with Peter Parker, Bendis has depicted different conflicts and anxieties for the character. Right after acquiring his superhuman abilities from a spider bite at the home of his uncle, Aaron, whom Miles admires but he does not initially know is a career criminal, Miles' father, Jefferson, explains to Miles that before Miles was born, Jefferson and Aaron were thieves who spent time in prison, and that while Jefferson reformed when he got older, Aaron has not. According to Bendis, this gives Miles cause to wonder if the traits that lead to criminal behavior are hardwired into his DNA, leading him to question whether he is essentially a good person or not, and what his future holds for him. These issues further haunt Miles after he becomes disillusioned with Aaron, and Aaron dies from an accidental explosion triggered during a battle between the two of them, saying, "You are just like me" to Miles before dying.
The addition of the character to the Marvel Comics universe got a ton of press when it was first announced but the series Ultimate Comics Spider-Man was not a huge hit. The sales numbers reportedly dropped and Marvel relaunched the series following the Secret Wars event where the character was made a part of the merged Marvel Universe as well as a member of the All-New, All-Different Avengers. I'm not sure the character has been financially successful in the Marvel comics but he has garnered a lot of love from critics. Putting the character in the Spider-Man animated movie will lead to some interesting and different storylines not yet explored in the previous film installments.
At CinemaCon 2016, Sony Pictures Animation president Kristine Belson made some big claims about that film, saying that it will present "a vision of Spider-man that will take your breath away," and that "conceptually and visually, it will break new ground for the superhero genre." Some bold predictions, but we still have no idea what the animated Spider-Man movie will look like. They also revealed that the film will exist independently of the projects in the live-action Spider-Man universe, so for it to be Miles Morales kind of makes sense.
We don't really know much about this upcoming project: The film is now scheduled for December 21st, 2018. Lord and Miller, the directors of The LEGO Movie, Cloudy with a Chance of Meatballs, and 21/22 Jump Street, are developing the animated Spider-Man feature film, writing the treatment and producing the film. There's no word on whether they will be involved in any directorial capacity, but it's unlikely as their plates are pretty full. Avi Arad, Matt Tolmach, and Amy Pascal are also serving as producers.