HBO's 'Westworld' Will Premiere This Year After All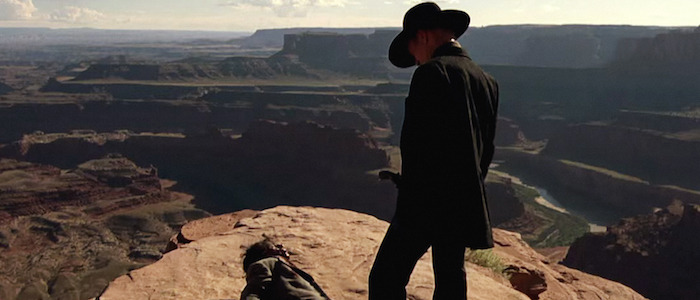 Back in January, HBO temporarily halted production on Westworld, a TV series based on Michael Crichton's 1973 film. The sci-fi western series, produced by J.J. Abrams and run by Jonathan Nolan, was reportedly running behind schedule and in need of reshoots. The ambitious project was speculated to debut this summer, and then there was the rumor that we wouldn't see the show until 2017.
Contradicting early reports, HBO has announced the Westworld premiere has been scheduled for later this year. Below, learn more about the series.
Westworld has joined the cable network's fall schedule, which also includes Divorce, High Maintenance, and Insecure. It was said that HBO and Jonathan Nolan were dealing with some creative differences after the show wasn't coming in on time. The Hollywood Reporter wrote that the network convinced the Interstellar screenwriter to "put his ego aside," as one source told them, and brought in two new writers and producers to get the show back on track.
Two months ago, J.J. Abrams commented on the production troubles:
At the heart of Westworld is this story of consciousness and oppression and discover. It's one of the projects I feel most grateful and lucky to be a part of. What [the directorial team has] done is so stunning and cool and they're not rushing it because of business matters and the network is giving them the time. That is never a bad move. Westworld is one of those things I've wanted to work on for so long. I had a meeting probably 21 years ago with Michael Crichton about doing this. And it's taken a long time to get this going.
From what I've heard, the pilot for Westworld was very good but overlong and in need of serious trimming down. The word was that show hadn't quite found its footing, that the story hadn't been fully cracked. Perhaps Nolan and all involved have worked out the kinks, considering we'll now see the show sooner than we expected a few months ago.
Here's the brief but alluring Westworld teaser trailer HBO released last August:
HBO ordered the pilot in 2013 and greenlighted season one a year later, hoping the show–which Lisa Joy is also heavily involved with, as a writer and executive producer–would premiere in 2015. Westworld stars Anthony Hopkins, Ed Harris, Evan Rachel Wood, James Marsden, Thandie Newton, Jeffrey Wright, Tessa Thompson, Rodrigo Santoro, Ben Barnes, Clifton Collins, Jr., and more. The exact premiere date for the series is currently unknown, but we'll let you know when it's announced.