FX Renews 'The Americans' For Two Final Seasons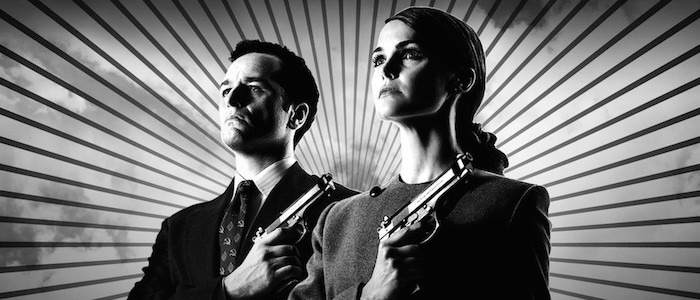 FX's The Americans will soon wrap up season four. The Cold War-era drama, which first aired in 2013, saw a drop in viewerships with season two and three. The Americans has never been a juggernaut in the ratings, which has often made fans worry the show wouldn't end on its own terms. FX has remained a major supporter of the show, ratings be damned, and the network will allow the series' co-runners Joe Fields and Joe Weisberg to complete the drama with two final seasons.
Below, learn more about The Americans final seasons.
FX has ordered 23 more episodes of the show. Season five, which will air in 2017, will consist of 13 episodes. The last season of the Americans will be the series' shortest one yet with a 10-episode order. The drama has always appealed to older viewers; half its audience is over the age of 50. Because of the critical and fan support, in addition to FX's affinity for the show, they've kept it going. FX's president of original programming Eric Schrier once said, while acknowledging the ratings, that he's fine that the show isn't a huge hit, that response to the series and their love for it is enough for them.
In a joint statement, Fields and Weisberg shared their gratitude for the two-season order:
It's hard to believe we're heading into the final stretch on The Americans, and we're so grateful to know we'll be telling the story to its conclusion. It's a lot of people putting their hearts and souls into The Americans, at this point for a lot of years. We're looking forward to the final two.
Schrier added:
Through its first four seasons, critics have lauded The Americans as one of the best shows on television and, remarkably, a series that keeps getting better every year. We have no doubt that this two-season order will allow Joe and Joel to tell this story to its perfect conclusion.
Schrier and FX plan to continue their working relationship with Joe Fields and Joe Weisberg. FX Production closed a deal with the two showrunners to develop their next television series, which is currently unknown. The duo always envisioned The Americans ending around season five or six, so they've gotten their wish. Season four of the series, which stars Keri Russell and Matthew Rhys as two KGB agents, concludes next month. There's plenty of time to watch or, like myself, catch up on The Americans before its sixth and final season. The FX series is available on Amazon Prime.