'Free State Of Jones' Trailer: Matthew McConaughey Leads The Knight Company Against The Confederacy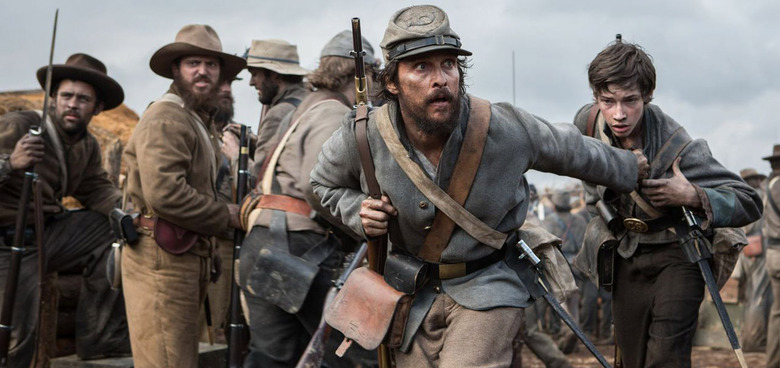 It's been four years since director Gary Ross helped launch The Hunger Games franchise. Ross, who was concerned he wouldn't have enough time to make the sequels, stepped away from the series, leaving the other installments in the hands of director Francis Lawrence. Perhaps using his clout from the success of the first film, the Seabiscuit and Pleasantville director's follow-up to The Hunger Games is a fairly large-scale period drama set during the Civil War.
Free State of Jones stars Matthew McConaughey (Dallas Buyers Club), Gugu Mbatha-Raw (Beyond the Lights), Keri Russell (The Americans), and Mahershala Ali (The Hunger Games franchise). Below, watch the new Free State of Jones trailer.
McConaughey plays Newton Knight, a Southern farmer who fought the Confederacy in an attempt to turn Jones County, Mississippi into a free state. During the height of the Civil War, the soldier–who reluctantly enlisted in the Confederate Army–led the Knight Company, a group of 125 deserters that drove the Confederate government out of Jones County.
Here's the new Free State of Jones trailer:
This trailer is a significant improvement over the first glimpse we got of Free State of Jones, which was almost three minutes long and an uneven mix of action and drama; it was overcrowded and far too busy. This considerably shorter preview is a leaner and more focused look at the film, taking only a minute to communicate what the first trailer took three minutes to establish.
Although the trailers for Free State of Jones aren't particularly rousing, we have plenty of reason to suspect Ross has made a film more effective than its advertisements. Ross, who also wrote Dave and co-wrote Big, is a reliable storyteller. As a writer and director, he's crafted some high-quality movies throughout his career.
Here's the official synopsis for the film:
Written and directed by four-time Oscar nominee Gary Ross (THE HUNGER GAMES, SEABISCUIT, PLEASANTVILLE), and starring Oscar winner Matthew McConaughey. FREE STATE OF JONES is an epic action-drama set during the Civil War, and tells the story of defiant Southern farmer, Newt Knight, and his extraordinary armed rebellion against the Confederacy.
Banding together with other small farmers and local slaves, Knight launched an uprising that led Jones County, Mississippi to secede from the Confederacy, creating a Free State of Jones.
Knight continued his struggle into Reconstruction, distinguishing him as a compelling, if controversial, figure of defiance long beyond the War.
Free State of Jones opens in theaters June 24th.