'Dog Eat Dog' International Trailer: Paul Schrader, Nicolas Cage, And Willem Dafoe Reunite For One Last Job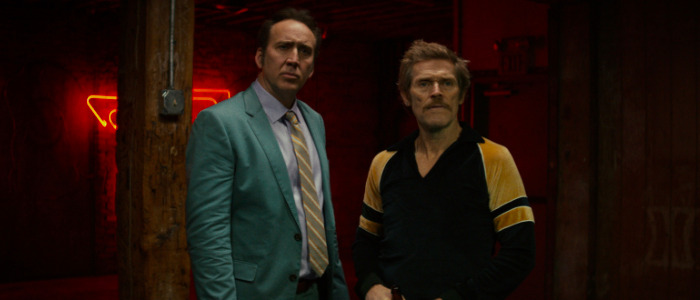 Paul Schrader and Nicolas Cage's previous collaboration didn't go so well. The Cold Dying of the Light was taken from the director, butchered and then dumped into theaters. Schrader and Cage disowned the film, a mess that actually features a pretty good performance from Cage. To avoid repeating the same experience twice, they made sure to make their next film under the right circumstances. With Dog Eat Dog, Schrader has final cut, so, unlike The Cold Dying of the Light, this darkly comedic crime thriller is a genuine Paul Schrader film.
Below, watch the Dog Eat Dog international trailer.
Dog Eat Dog is a bit of a reunion, and not just for Cage and Schrader. The film, which is based on a novel by Edward Bunker, also stars Willem Dafoe, who starred in Schrader's Light Sleeper and his Bob Crane biopic, Auto Focus. Cage and Dafoe have acted together before, too, most famously in David Lynch's Wild at Heart. This time around, the two are playing partners in Paul Schrader's latest film.
Here's the Dog Eat Dog international trailer, which features a glimpse at Schrader's role in the film (via Firstshowing):
After Cold Dying of the Light, a thriller that definitely had its edges softened, it looks like Cage and Schrader have made the movie they wanted to make — a violent and nasty piece of work. Based on the trailer, Dog Eat Dog is one unhinged film from Paul Schrader. Critics were mixed on it at the Cannes Film Festival, but a polarizing response is nothing new for the director, and at least the reviews were more positive than what was written about The Canyons and Cold Dying of the Light.
Here's the official synopsis for Dog Eat Dog:
When three desperate ex cons are offered a job by a Mexican mob boss, they know they should refuse, but the payoff's too rich to turn down. All they have to do is kidnap the kid of a colleague who's ripping the mob boss off. But the abduction goes awry when the kidnappers are forced to kill an unexpected intruder who turns out to be the child's father – the very man the mob boss intended to extort. Now unwelcome in the underworld and on the run for murder, the ex cons find themselves as the most wanted fugitives in the City of Angels. And each vows that none of them will ever go back to prison. No matter what the cost.
Dog Eat Dog is currently without domestic distribution.