Margot Robbie To Play 'Winnie The Pooh' Creator's Wife In 'Goodbye Christopher Robin'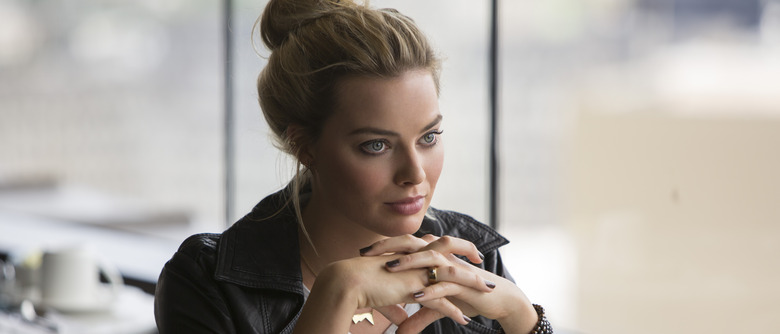 Domhnall Gleeson and Margot Robbie might reunite for Goodbye Christopher Robin. Robbie had a brief role in Richard Curtis' lovely time travel film, About Time, but she'd have a significantly larger part to play in this Gleeson-led biopic. Simon Curtis' (My Week with Marilyn) is directing Goodbye Christopher Robin, which is about "Winnie the Pooh" creator, A. A. Milne, and his relationship with his son, Christopher Robin Milne.
Robbie may join the Goodbye Christopher Robin cast. Learn more about the biopic below.
Variety reports that Robbie is currently in talks to co-star in the film as A. A. Milne's wife, Dorothy "Daphne" de Sélincourt. They were married for around 43 years. The couple had hoped for a girl, but they instead had a son, Christopher Robin Milne, an only child that inspired his father's work. Pooh's best pal, Christopher Robin, appeared in Milne's "Winnie-the-Pooh", "The House at Pooh Corner", and several of the Disney adaptations. Pooh, Tigger, Eeyore, and Piglet were also the names of Robin Milne's toys. However, A. A. Milne's son was hardly flattered. He once said of his father's career:
It seemed to me almost that my father has got to where he was by climbing upon my infant shoulders, that he had filched from me my good name and had left me with the empty fame of being his son.
Winnie the Pooh haunted Milne for years and years. He couldn't escape his father's shadow or his stories. At school, he was often teased. A. A. Milne tried to distance his son from the character, insisting they were different, but the damage was done. Even later on in Christopher Milne's life, he didn't find the anonymity he had always desired. When he ran the Harbour Bookshop with his first cousin/wife, he'd often have parents and kids come to the store to meet the real-life Christopher Robin.
Robin's relationship with his mother was troubled as well. After A. A. Milne passed away, Christopher Robin Milne never saw her again. It's a heartbreaking story, which is why I'm a little worried about Simon Curtis directing. My Week with Marilyn felt a little sugar coated, which is the last thing you want from a biopic. Goodbye Christopher Robin isn't an uplifting or inspirational story about fathers and sons coming together, and hopefully, it doesn't get turned into that.
We'll likely find out soon if Robbie boards the film. She has a potentially massive summer ahead of her with Tarzan and Suicide Squad. The Z for Zachariah star most recently became attached to another true-life story, I, Tonya, about the disgraced American ice skater Tonya Harding.