'Teenage Mutant Ninja Turtles 2': Brad Garrett Is The Voice Of Krang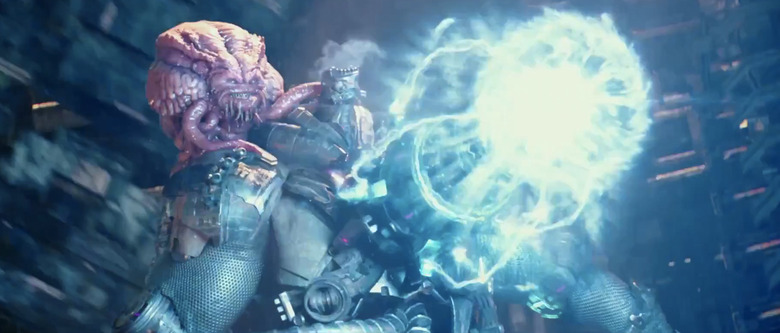 Between Shredder and Baxter Stockman and Bebop and Rocksteady, you'd think our heroes in a half shell would have more than enough to contend with already. But apparently the filmmakers behind Teenage Mutant Ninja Turtles: Out of the Shadows didn't think so, because they're also throwing Krang into the mix. Earlier reports indicated that Saturday Night Live alum Fred Armisen would voice the squishy pink alien, but now Armisen's out and Brad Garrett will be stepping up instead.  
The LA Times Hero Complex broke the news of the Teenage Mutant Ninja Turtles 2 Brad Garrett Krang casting. Armisen was originally announced for the film back in March, at WonderCon, but he's now dropped out of the film due to scheduling issues. Although best known for his work in shows like Everybody Loves Raymond and 'Til Death and, most recently, Fargo, he's done plenty of voice work in films like Finding Nemo and Ratatouille.
Krang, a brain-shaped alien who spends most of his time inside a human-shaped exosuit. He hails from Dimension X and would very much like to rule, well, everything. The character first appeared in the 1980s Teenage Mutant Ninja Turtles animated series, where he was voiced by Pat Fraley. Krang has also appeared in the comic books, video games, and newer Ninja Turtles series. We have yet to hear what he'll sound like in the new movie, but with Garrett on board we're guessing the answer is "surprisingly deep and booming."
Teenage Mutant Ninja Turtles: Out of the Shadows lands in theaters July 3. Dave Green (Earth to Echo) is directing.
Michelangelo, Donatello, Leonardo, and Raphael return to theaters this summer to battle bigger, badder villains, alongside April O'Neil (Megan Fox), Vern Fenwick (Will Arnett), and a newcomer: the hockey-masked vigilante Casey Jones (Stephen Amell). After supervillain Shredder escapes custody, he joins forces with mad scientist Baxter Stockman (Tyler Perry) and two dimwitted henchmen, Bebop (Gary Anthony Williams) and Rocksteady (WWE Superstar Stephen "Sheamus" Farrelly), to unleash a diabolical plan to take over the world. As the Turtles prepare to take on Shredder and his new crew, they find themselves facing an even greater evil with similar intentions: the notorious Krang.