Jenny Slate Reuniting With 'Obvious Child' Director And Writer For '90s Comedy 'Landline'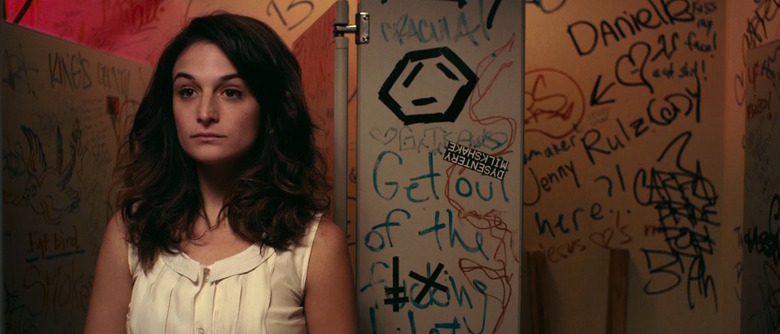 The delightful Obvious Child came seemingly out of nowhere in 2014 to win us over. In our defense, it was the first-ever feature by director Gillian Robespierre, and the first screenwriting credit for Elisabeth Holm, and star Jenny Slate hadn't yet established herself as a movie star. But now that we've all seen and loved Obvious Child, there's no chance of the gang's next team-up flying so far under the radar.
Slate is set to star in Robespierre's next directorial effort, Landline, to be written by Robespierre and Holm. As the title suggests, Landline is a period piece — specifically, an ensemble comedy set in 1995. John Turturro, Edie Falco, Jay Duplass, and newcomer Abby Quinn are also among the cast. 
The Hollywood Reporter describes Landline as follows:
Set in 1995 Manhattan, Landline follows three women in one family having lots of sex, drugs and Japanese food. Navigating monogamy, honesty and a long-lost New York, the Jacobs family lives in the last days when people still didn't have cellphones and still did smoke inside. Teenager Ali (Quinn) discovers her dad (Turturro) is having an affair. Older sister Dana (Slate) uncovers her own wild side. And their mother Pat (Falco) grapples with the truth that she can't have it all, but her family still has each other.
'90s nostalgia seems to be good business right now, inspiring projects as varied as the ABC family sitcom Fresh Off the Boat, the rap biopic Straight Outta Compton, and the blockbuster sequel Jurassic World. The description for Landline sounds a little cutesy — no cell phones, how quaint! — but Obvious Child showed that this team can do sweet-but-not-sentimental really well. Robespierre, Slate, and Holm, whose Obvious Child debuted at Sundance in 2014, reunited once before for an FX comedy pilot about two best friends on a road trip.
Slate was back at Sundance this year with Jeff Baena's bachelor party comedy Joshy, and recently hit SXSW with My Blind Brother. She was heard as the voice of Assistant Mayor Bellwether in Disney's Zootopia, will also be heard in this summer's The Secret Life of Pets. She'll next be seen in Marc Webb's Gifted, also starring Chris Evans and Octavia Spencer.
Turturro's last film, we are very sad to say, was Adam Sandler's The Ridiculous 6. His upcoming projects sound more promising — they include the HBO miniseries The Night Of and the boxing biopic Hands of Stone. Falco recently wrapped up her seven-season run on Showtime's Nurse Jackie, and appeared in Louis C.K.'s Horace and Pete. She next stars with Robert De Niro in The Comedian and Kate Mara in Leavey. And Duplass is still kicking ass on Amazon's Transparent.
Shooting on Landline begins later this month.