'Insidious: Chapter 4' Scares Up A Director And A Release Date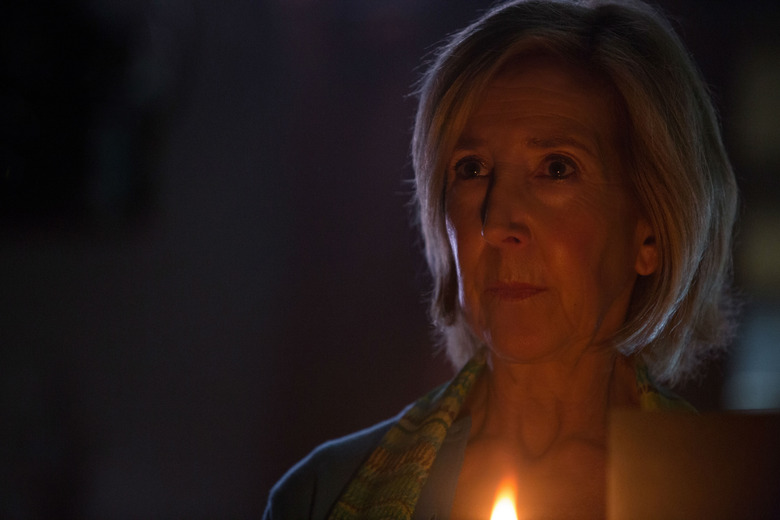 Universal isn't ready to turn off the lights on its Insidious franchise. The studio revealed today that Insidious: Chapter 4 is coming in 2017, with Adam Robitel (The Taking of Deborah Logan) directing from a script by Leigh Whannell. Lin Shaye will return as parapsychologist Elise Rainier. Watch a cute little video featuring Shaye and Whannell's official announcement below.
As mentioned in the video, Universal has set Insidious: Chapter 4 for October 20, 2017, right in the middle of the Halloween season. The date had previously been reserved for Its only other box office competition on that date so far is the Ben Affleck crime drama Live By Night. Whannell, who wrote the first two Insidious movies and wrote and directed Insidious: Chapter 3, provides the script. James Wan, who directed Insidious and Insidious: Chapter 2, will produce along with Oren Peli and Jason Blum. Steven Schneider, Brian Kavanaugh-Jones, and Charles Layton are executive producing.
Creatively, the Insidious films have yielded diminishing returns. Chapter 3, which was the first one not directed by Wan, traded the tension and dread of the earlier films for jump scares and gimmicky monsters, and not even the new and different setting (it's a prequel) could keep it from feeling familiar. But financially, they're still thriving. Chapter 3's grossed $112 million worldwide on a production budget of $10 million. The smart thing is to keep this series going until they've completely run it into the ground.
No plot details have been revealed for Insidious: Chapter 4, but given that Shaye is the only cast member confirmed to return right now, it seems likely the new film will pick up with a new case in Elise Rainier's files (like Chapter 3 did) rather than continue one of the existing plotlines (like Chapter 2 did for the first movie).
Robitel previously worked with Blumhouse on the screenplay for Paranormal Activity: The Ghost Dimension. He made his feature directing debut with 2014's The Taking of Deborah Logan, which admittedly flew under our radar but which seems to have scooped up some solid reviews on the indie horror circuit.