Andy Serkis' 'Jungle Book' Will Be "Darker" Than Jon Favreau's, Because Kids These Days Aren't Scared Enough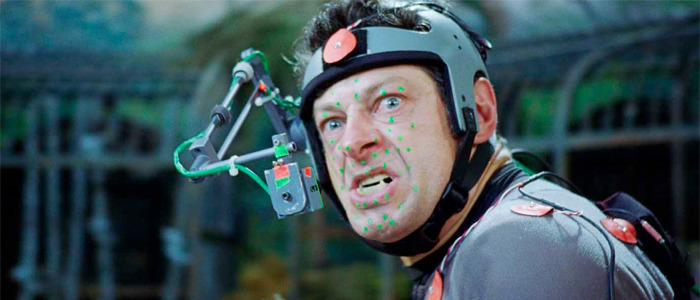 Disney's The Jungle Book was a roaring success by any metric. It broke new ground for CG animation, wowed critics with its updated interpretation of Rudyard Kipling's classic, and has racked up $828 million in global box office grosses to date. All of which means Warner Bros.' upcoming Jungle Book, directed by Andy Serkis, has quite a lot to measure up to. But the director doesn't seem too concerned about the competition, explaining that his will be a "darker" take for a "slightly older audience." 
Serkis talked up his Jungle Book in a chat with Vulture. "Ours is for a slightly older audience," he said. "It's a PG-13, more a kind of Apes movie, a slightly darker take, closer to Rudyard Kipling's." However, he clarifies, it'll still be kid-friendly. Well, at least as long as you agree with his opinion that movies these days are overly cautious about protecting children:
It's great to scare kids in a safe environment because it's an important part of development, and we all loved to be scared as kids, so we shouldn't overly protect them. Kids are so sophisticated, and that is why our Jungle Book is quite dark. ... It's a story of an outsider, someone who is trying to accept the laws and customs of a particular way of living and then has to adapt to another culture, a human culture, which of course he should be able to adapt to, because this is what he is. So it's about two different species and their laws and customs, and neither are entirely right.
Disney's The Jungle Book is cute and cuddly enough to feature a boy and his bear BFF singing a song together, but it actually featured some pretty dark moments as well. Idris Elba is genuinely terrifying as Shere Khan, and the hyper-realistic 3D makes the action scenes feel genuinely dangerous and exciting. Still, a PG-13 gives Serkis the license to get even more brutal and violent. "Darker" isn't always better (just ask everyone who hated Batman v Superman), but it's definitely one way for Warner Bros.' movie to distinguish itself from Disney's.
Leaving aside the inevitable comparisons to the Disney version, Serkis' Jungle Book has plenty to recommend it. It's his feature directing debut, and Alfonso Cuarón recently came on board to help him out. Plus, the cast is just aces: Serkis plays Baloo, Benedict Cumberbatch is Shere Khan, Christian Bale is Bagheera, and Cate Blanchett is Kaa. Serkis' Jungle Book is slated for release on Oct. 19, 2018.