'Loving' Poster And Early Buzz: Jeff Nichols Hits Cannes With A Historical Romance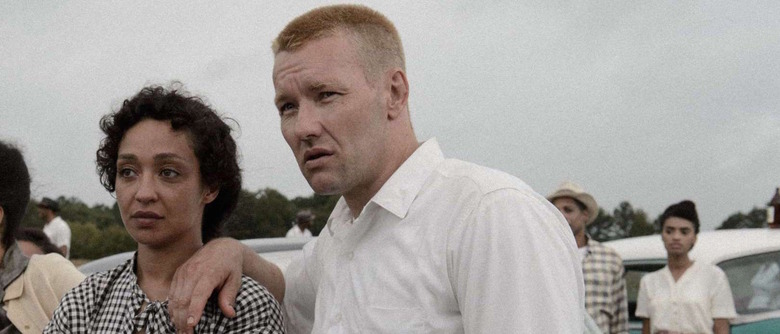 Jeff Nichols' last movie, Midnight Special, has only just left theaters, but he's already got another one on the way. The filmmaker hit Cannes this week to unveil Loving, his new drama about the 1967 Supreme Court case that struck down anti-miscegenation laws across the country. Joel Edgerton and Ruth Negga play Richard and Mildred Loving, the mixed-race couple whose marriage is literally on trial, and they take center stage in the very first Loving poster. Check it out, and get the early buzz on Nichols' movie, below. 
First, here's the very pretty and romantic poster for Loving. If it weren't for the fact that "Loving" is the actual last name of the real-life couple at the center of this story, it would feel too on-the-nose.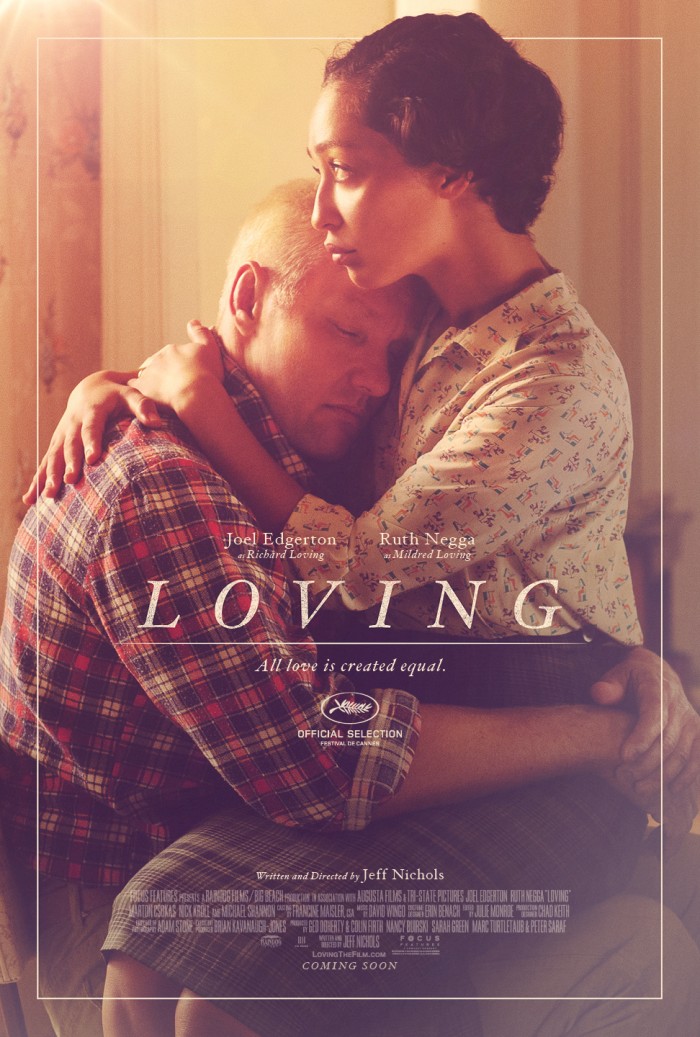 Nichols isn't a director who tends to indulge in grand, melodramatic moments; even Midnight Special feels restrained compared to the Amblin films that obviously inspired it. That subtlety seems to be both a benefit and a drawback in the case of Loving, based on the reactions below. Focus Features has Loving set for an awards-friendly release date of November 4.
"Loving" is so committed to this spirit of low-key respectability — subtly reinforced by David Wingo's understated string score — that it very nearly skips over the Supreme Court trial, featuring just a few remarks by Cohen and fellow counsel Phil Hirschkop (Jon Bass, as superficial as Kroll) before delivering the verdict by telephone. Mildred answers slowly, as if calls were somehow commonplace in the old farmhouse where Richard has only just installed a phone, and she barely reacts to the news. Such humility may be devastating, but it ain't dramatic, and though we've been waiting for this moment the entire movie, the scene underscores "Loving's" single greatest weakness: It's too damn polite. Had the same story been told by parties who'd suffered through the same oppression, one doubts they could have played it so cool — nor would they have been quite so convinced the problem ended in 1967.
What might hurt the film, and what some have already complained about in the press area at Cannes, is a sense of dramatic inertness. The whole idea here is "perseverance through patience": Richard and Mildred are strong and in love from frame one through to the very end, and though the threat they feel is pervasive, they fight it with the civil disobedience of ... eating dinner as a family. Living your truth and waiting for the rest of the world catch up is a strong motto for life — but translated to film, that approach yields a narrative that can feel a little too passive.
Rory O'Connor at The Film Stage:
Ruth Negga and Joel Edgerton deliver remarkably nuanced performances in Loving, a late '50s/early '60s-set true life story of a mixed race couple who's illegal marriage became a landmark case in the United States supreme court. Having tried his hand at the coming-of-age drama (Mud) and both small and large-scale science fiction (Take Shelter and Midnight Special, respectfully), the increasingly prolific Jeff Nichols branches out once more here to the awards season period drama. This heartwarming and wonderfully refined film might not do a whole lot of things we haven't seen before in the civil rights era picture, but it does the familiar stuff with enormous care and control.
As Richard, Edgerton's ideally cast to play a low key character less invested in grand statements than maintaining his private life. It's Negga, however, who truly comes into her own as the movie's agent of change. Her darting eyes speak volumes about a mounting drive to rectify the situation as their family expands to three children, even though she can't fully put the process into words. That's to the credit of Nichols' elegant screenplay, which pares down the events so that the emphasis is taken off the legal proceedings and avoids any overdone speechifying. The movie belongs to the Lovings' personal needs rather than the sweeping reform that emerged from it.
All of this is presented in an unusually matter-of-fact manner for a Hollywood film. The South is not shown as being dominated by fire-breathing Klan members, drooling hillbillies and squinty-eyed cops, but rather by regular folks set in their ways on both sides of the color divide. Even Richard's salt-of-the-earth mother, a mid-wife who handles the birth of their first baby, privately tells her son he shouldn't have married Mildred, and while the main local cop (Marton Csokas) may seethe with potential sinister intent, he's got the law on his side and doesn't need to overstep it.
Dave Calhoun at Time Out London:
This is a drama of reluctant protagonists, and Nichols refuses to turn the Lovings into something they weren't. It's both the film's chief strength and its main limitation. While so cautiously avoiding melodrama and other histrionics, Nichols also sidesteps some crucial questions. What did these years of oppression and uncertainty do to the Lovings' relationship? What was the effect on their family, their friends, their kids? We get only hints of answers.