Studio Ghibli's 'The Red Turtle' Trailer Looks Stunning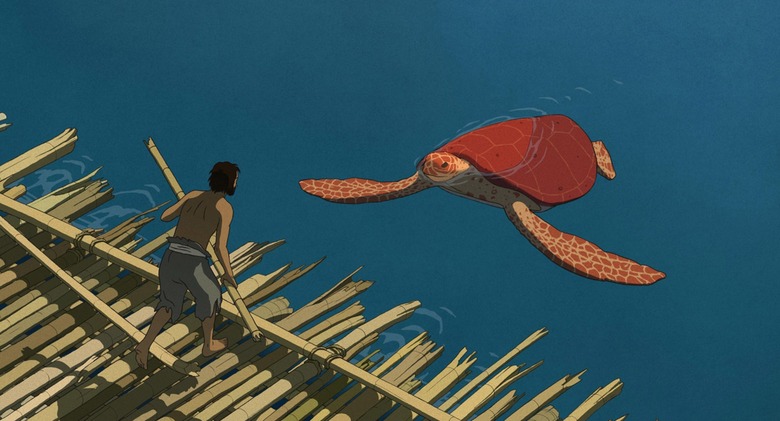 Studio Ghibli's The Red Turtle is set to premiere in the Un Certain Regard section at the Cannes Film Festival which is currently underway in France. The Red Turtle, or La tortue rouge as it's titled internationally, tells the story of a sailor who becomes marooned on a deserted tropical island and desperately tries to escape until he encounters a strange turtle that somehow changes his life. The entire 80-minute movie features very little dialogue and looks absolutely gorgeous and promises to be something truly special, making me wish the big American animation studios hadn't completely given up on 2D feature animation.
Watch The Red Turtle trailer now and tell us what you think in the comments.
The Red Turtle Trailer
The Red Turtle is scheduled for release in Japan in September 2016, but has yet to get US distribution. Disney has done North American releases for some of the other Studio Ghibli films. And this film has virtually no dialogue, which would make it language independent, requiring very little change to bring it across the ocean. The film is actually a co-production between Wild Bunch and Studio Ghibli.
The beautiful feature-length animated film is directed by Michaël Dudok de Wit, who was nominated for an Academy Award in 2000 for his animated short film Father and Daughter. And don't bother opening that google window, we've included that too in case you haven't seen it.
Wild Bunch head Vincent Maraval visited Studio Ghibli in 2008 and was shown this short film by Hayao Miyazaki, who tasked him to find its director with the hopes that they could co-produce a feature with him. The screenplay was written by Dudok de Wit and French screenwriter (and director) Pascale Ferran (Lady Chatterley, The Bird People).
And here are a couple stunning posters released for The Red Turtle: