Producer Simon Kinberg Still Threatening To Make A 'Fantastic Four' Sequel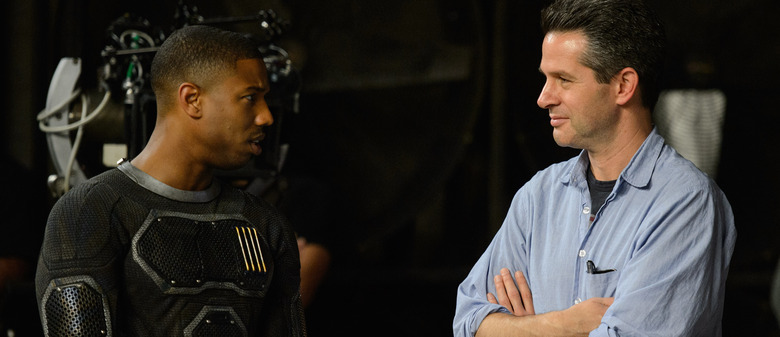 Last year's Fantastic Four was a failure by just about any measure. It's one of the worst reviewed and one of the lowest-grossing Marvel Comics adaptations of all time, it derailed Josh Trank's once-promising career, and it further tarnished the reputation of a property that had already been ill-served by 2005's Fantastic Four. It came as no surprise, then, when 20th Century Fox quietly yanked the planned sequel from its summer 2017 slate. But producer Simon Kinberg says they aren't giving up just yet.
"We want to make another Fantastic Four movie," Kinberg said during the recent press tour for X-Men: Apocalypse. And they're really going to try to get it right this time, he promises: "We'll try to be truer to the essence of the tone of Fantastic Four," he said. 
Speaking with Den of Geek, Kinberg was frank about his disappointment in 2015's Fantastic Four:
We didn't make a good movie, and the world voted, and I think they probably voted correctly. And you can't make a good movie every time out — not everybody does. We actually have a pretty good batting average, all things considered. But I think we made many mistakes when we made that movie — mistakes that we learned from and we wouldn't repeat.
But, he continued, "We want to make another Fantastic Four movie. We love that cast." And he's already given some thought to how a sequel could course-correct:
We'll try to be truer to the essence of the tone of Fantastic Four, which is completely — well, not completely, but largely — distinct from the X-Men, which is brighter, funner, more optimistic tone. I think we tried to make a darker Fantastic Four movie, which seemed like a radical idea but we were kind of messing with the DNA of the actual comic instead of trusting the DNA of the comic.
Kinberg adds that they're still "working really hard on figuring that out," so it doesn't sound like they've cracked the code quite yet. Still, it means 20th Century Fox isn't willing to hand those Fantastic Four over to Marvel Studios quite yet, fan petitions be damned. So now it's a question of whether 20th Century Fox can actually get their act together before the clock runs out on those rights.
2015's Fantastic Four was a reboot of the 2005 Fantastic Four and its sequel, but rather than rejuvenate the franchise it drove it into the ground. On paper, Kinberg's plan for righting the series sounds solid. That is indeed a great cast (Michael B. Jordan, in particular, is only getting more popular) and it makes sense to embrace the comics' brighter tone. But all of that is easier said than done. It wouldn't be impossible for Fox to turn things around — who'd have thought X-Men Origins: Wolverine would pave the way for a really good Deadpool movie seven years later? — but even if Kinberg and his team can get things clicking creatively, they might find it a challenge to convince audiences to turn out for a sequel when they didn't even turn out for the last film.
20th Century Fox's Marvel Comics slate got off to a fantastic start this year with Deadpool, which became one of the highest-grossing R-rated movies of all time. But the buzz surrounding this month's X-Men: Apocalypse has been severely mixed, suggesting the Fantastic Four might not be the only superpowered team that the studio is trying to get right. Are you at all interested in the prospect of a Fantastic Four sequel, or do you wish Fox would just let this one go?