'The Accountant' Trailer: This Is Why You Should Never Trust Your Accountant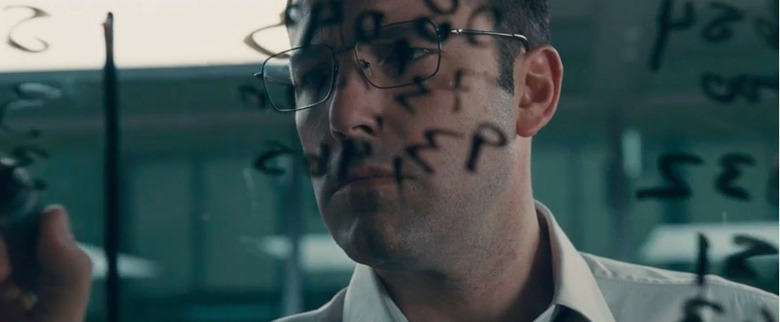 Director Gavin O'Connor (Warrior) last boarded a moving train with Jane Got a Gun, a project that was plagued with problems before he arrived on set. The Western quickly disappeared from theaters this year, but it's hard to blame O'Connor, who typically delivers quality dramas. The director's new film, The Accountant, opens in theaters later this year. The thriller stars Ben Affleck, Anna Kendrick, J.K. Simmons, Jon Bernthal, Jean Smart, Jeffrey Tambor, and John Lithgow.
Watch The Accountant trailer below.
O'Connor's film was originally scheduled to open in theaters this past January, but Warner Bros. decided The Accountant may perform better in the fall. Affleck's films have played well during awards season before, so the postponement made sense. In The Accountant, Affleck plays Christian Wolff, a freelance accountant for criminal organizations. Wolff, who's on the spectrum, is also a highly trained assassin.
Here's The Accountant trailer:
Again, another trailer that begins with a preview of the trailer, but thankfully the footage that follows is enough to make up for it. While this isn't the first trailer to use Radiohead's "Everything in its Right Place," the song is put to good use in this instance. The repetition, Ben Affleck's cold and calculating silence, and Radiohead frontman Thom Yorke's voice all add up to a trailer with a real sense of dread and excitement.
Nothing we see of Affleck in the footage is reminiscent of any of his past work. Christian Wolff looks like an entirely different (and very internalized) performance from the actor. Affleck is in the capable hands of Gavin O'Connor, who hasn't made a movie in this vein before. This is slightly new territory for the director, but he seems to have fared well with the set pieces. Hopefully, O'Connor's film is just as suspenseful as its trailer.
Here's the official synopsis:
Christian Wolff (Ben Affleck) is a math savant with more affinity for numbers than people. Behind the cover of a small-town CPA office, he works as a freelance accountant for some of the world's most dangerous criminal organizations. With the Treasury Department's Crime Enforcement Division, run by Ray King (J.K. Simmons), starting to close in, Christian takes on a legitimate client: a state-of-the-art robotics company where an accounting clerk (Anna Kendrick) has discovered a discrepancy involving millions of dollars. But as Christian uncooks the books and gets closer to the truth, it is the body count that starts to rise.
The Accountant opens in select theaters September 23rd, before going wide on October 14th.