'Indignation' Trailer: Here's The Logan Lerman Performance That Wowed Sundance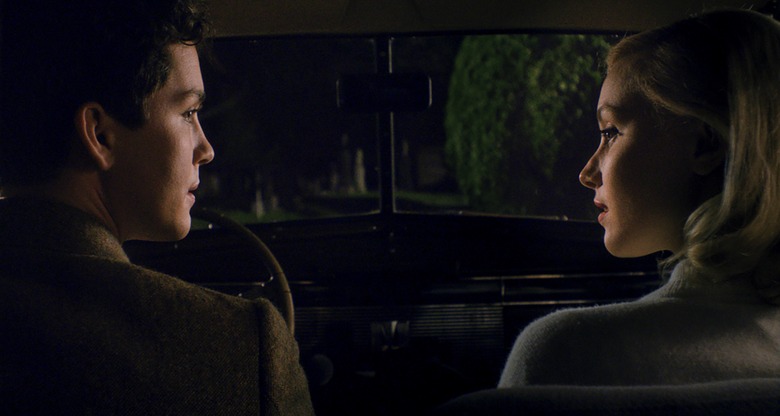 At 24, Logan Lerman's already built up a damn impressive career. He's done the franchise thing with Percy Jackson, checked off the "YA adaptation" box with Perks of Being a Wallflower, and worked with filmmakers like David Ayer (Fury), Darren Aronofsky (Noah), and James Mangold (3:10 to Yuma). Now he's back this summer in Indignation, the directing debut of The Ice Storm and Hulk screenwriter James Schamus.
Based on the novel by Philip Roth, the drama stars Lerman as a working class Jewish boy attending a Christian college in Ohio. Between his religious convictions and his romance with fellow student Olivia (Sarah Gadon), who's got some troubles of her own, he fits in like a square peg in a round hole. Our own Ethan Anderton caught Indignation at Sundance, and he loved it so much he's even quoted in the first Indignation trailer, which you can watch below. 
Huffington Post debuted the first Indignation trailer.
It looks like gorgeous, thoughtful stuff, and like a big step forward for Lerman, who also receives his first executive producer credit on this film. But just in case you need still more encouragement to go check out Indignation, here's more from Ethan's gushing Sundance review:
Indignation is a masterful piece of work from James Schamus, a film that would have been worthy of being release under his Focus Features banner had it been released years before. Every piece of production is remarkable, from the supporting cast, to the production design and more. Schamus has crafted an extraordinary adaptation of Philip Roth's book, a timeless tale of lost love and innocence that deserves to be seen.
Roadside Attractions has Indignation out in theaters July 29.
Based on Philip Roth's late novel, Indignation takes place in 1951, as Marcus Messner (Logan Lerman), a brilliant working class Jewish boy from Newark, New Jersey, travels on scholarship to a small, conservative college in Ohio, thus exempting him from being drafted into the Korean War. But once there, Marcus's growing infatuation with his beautiful classmate Olivia Hutton (Sarah Gadon), and his clashes with the college's imposing Dean, Hawes Caudwell (Tracy Letts), put his and his family's best laid plans to the ultimate test.