Adam Driver, Riley Keough And More Will Star In Steven Soderbergh's 'Logan Lucky'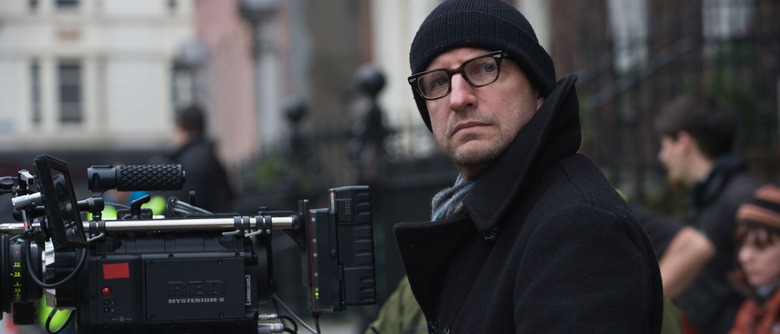 Well, now it's official: Steven Soderbergh is indeed coming out of retirement. Back in February, the "rumor" was that Soderbergh would return to moviemaking with Logan Lucky, but Soderbergh went on to dismiss the story on his always entertaining Twitter feed. However, the project is both real and moving forward, as a few big actors have just signed up for the heist film.
Learn more about the Logan Lucky cast below.
It was initially reported Channing Tatum would star in Logan Lucky, which has been proven to be true. Unfortunately, Michael Shannon is no longer involved with the project, due to a scheduling conflict with Guillermo del Toro's Cold War romance. According to Deadline, Soderbergh and all involved have already found Shannon's replacement in Adam Driver (Star Wars: The Force Awakens), who will play Tatum's character's brother in Logan Lucky. The story is in "in the vein of Ocean's 11... but with hillbillies," revolving around a heist during a NASCAR race.
Additionally, Seth MacFarlane (Ted) is in talks to star in the film. There's no word on MacFarlane's potential role, but if the deal works out, he'll also be joining Riley Keough (The Girlfriend Experience) in the cast, per The Hollywood Reporter. Soderbergh, who executive produced the recent Starz adaptation of his film, has also worked with Keough on Magic Mike. THR adds that Filmnation is currently selling the international rights to Logan Lucky in Cannes.
Soderbergh's last two features were Side Effects and Behind the Candelabra, both of which were released in 2013. Since the director retired from the film business, he's been working on a variety of projects, including The Knick, Red Oaks, and executive producing a few features. In October of last year, he expressed little interest in returning to moviemaking, but he also sounded a little open-minded to the idea:
Just from my very personal, subjective point of view, I don't have an interest in making another theatrical film unless my attitude changes or the business changes. There are a series of things that have contributed to it — I think the audiences have a played a role, the studios have a role in it — but film is increasingly fear based in its decision-making, and that's not a good base to be creative.
The director, at least for the time being, has changed his mind. Since Michael Shannon's schedule conflicted with Logan Lucky, it's safe to assume Soderbergh will start shooting the heist film sometime this summer, around the time when Shannon will be working on del Toro's drama.  We're not sure how exactly Logan Lucky helped draw Soderbergh out of retirement — or why he made the decision — but, whatever the case, it's great to hear we'll soon see another picture from the filmmaker.