Nicolas Winding Refn's 'The Neon Demon' Will Open In Theaters On June 24th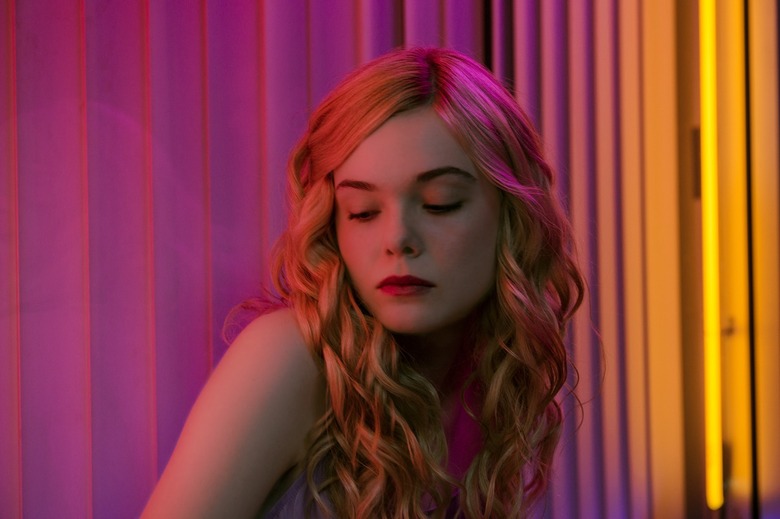 Maybe it's because Nicolas Winding Refn's films tend to be light on plot, but whoever has been cutting the trailers for the Drive and Bronson director's upcoming horror picture, The Neon Demon, has done an excellent job not giving away any of the film's secrets, instead focusing far more on the picture's atmosphere. We still don't even know the exact significance of Keanu Reeves' (John Wick) role in The Neon Demon, which is a great rarity in this day and age, but we'll soon find out more about Reeves' mystery role. Amazon Studios, in association with Broad Green Pictures, will release Refn's latest on June 24th.
Learn more about The Neon Demon release date plans below.
The Neon Demon is one of the five Amazon films screening at the Cannes Film Festival, and Refn's film is playing in competition. The last time the director attended the festival was for Only God Forgives, which drew boos at its screening. But, of course, you should never take audiences that boo seriously, especially at the Cannes Film Festival. As much as Refn enjoyed that divisive response to his Bangkok-set crime thriller, ideally, The Neon Demon will be greeted more warmly. Although the trailers suggest this is far from a movie for everybody, so we'll see.
As for when the rest of the world will get the opportunity to see the horror film, Amazon Studios and Broad Green Pictures have joined forces to distribute the picture. Three months after The Neon Demon's theatrical release in June, it'll be made available to Amazon Prime customers–which is the same release plan for Woody Allen's newest comedy, Café Society. Any fan of Refn's probably won't bother waiting to watch the film on Amazon. However, for anyone that doesn't have an arthouse theater nearby, it's certainly a convenient way to see Refn's latest.
The Neon Demon is a slight change of pace for Nicolas Winding Refn. The director's tale of "vicious beauty" has his style written all over it, based on the footage we've seen, but, by his own admission, he needed to venture outside of making films about violent men, and that's what he did with The Neon Demon. The horror picture stars Elle Fanning (Super 8), Abbey Lee (Mad Max: Fury Road), Christina Hendricks (Mad Men), Jena Malone (The Hunger Games franchise), and Bella Heathcote (Not Fade Away).
Here's the official synopsis for The Neon Demon:
When aspiring model Jesse moves to Los Angeles, her youth and vitality are devoured by a group of beauty-obsessed women who will take any means necessary to get what she has.
The Neon Demon opens in limited release on June 24th.