'Beetlejuice 2' Update: Tim Burton Says "Nothing Is Concrete Yet"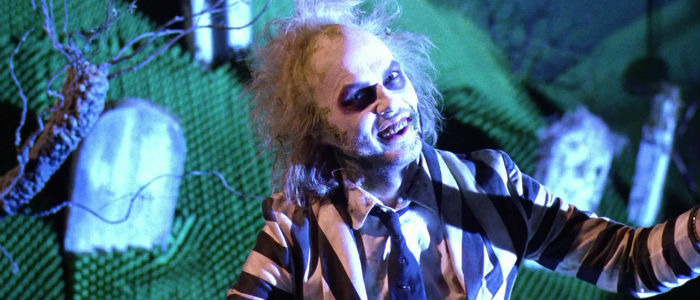 We've been hearing bits and pieces of news regarding Beetlejuice 2 for a few years now. Back in 2012, director Tim Burton was waiting to see how Seth Grahame-Smith (Abraham Lincoln: Vampire Hunter) and David Katzenberg's script turned out, saying he'd keep an "open mind" about directing the sequel. The director's interest in the project has significantly risen over the years, but he still has some understandable reservations about making the film.
Below, Tim Burton provides a Beetlejuice 2 update.
A year ago, Grahame-Smith (who recently dropped out of directing The Flash) was hopeful that Burton would start shooting the sequel once Miss Peregrine's Home For Peculiar Children was completed. The director probably still has plenty of more work to do on that film, but considering it's getting released this September, Burton's schedule should open up soon.
Does he plan on making Beetlejuice 2 after he's finished his adaptation of Ransom Riggs' novel? While speaking with Collider, Burton told the outlet he's still interested in the project, but added that "there's nothing concrete yet":
This is the thing, it's something that I'm interested in, but there are so many stories [online], dumping Michael Keaton for Johnny Depp and this or that, and I've talked to these people and they didn't wanna hear this, so they just made up a story. But the fact of it is I have talked to Michael and I have talked to Winona [Ryder], I've talked to a few people. It's something that I really would like to do in the right circumstances, but it's one of those films where it has to be right. It's not a kind of a movie that cries out [for a sequel], it's not the Beetlejuice trilogy. So it's something that if the elements are right—because I do love the character and Michael's amazing as that character, so yeah we'll see. But there's nothing concrete yet.
There's no reason for Burton to rush to the finish line with Beetlejuice 2. It's been 28 years since the original film came out, so it's not as if the director needs to strike while the iron is hot. He can take his time with this project, and perhaps he'll continue to do jus that. The director is currently attached to Disney's live-action version of Dumbo, which could be his next project, based on all of the release dates for Disney's upcoming remakes. We'll have to continue to wait and see with Beetlejuice 2, but it is good to hear Burton isn't going to move forward with the sequel until he has another Beetlejuice and Lydia Deetz (Winona Ryder) story worth telling.