'Locke & Key' TV Series In Development, Again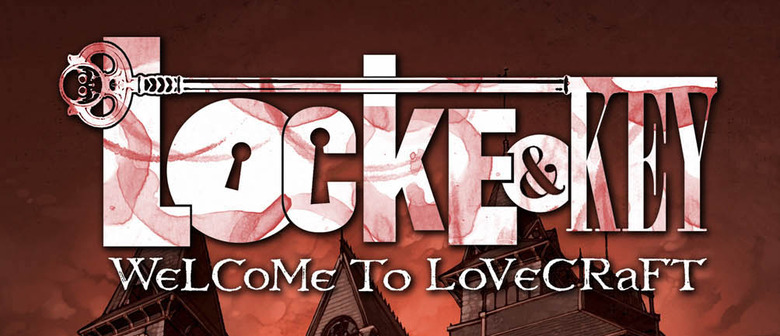 Joe Hill and Gabriel Rodriguez's Locke & Key is coming to the small screen. IDW Entertainment, which published the Locke & Key comics, announced today that Hill will write and executive produce a new Locke and Key TV series. There's no word yet on which network might air the show, although it seems likely to end up at a cable channel.
Oh, and if all of this sounds oddly familiar, that's because this is the second attempt to get a Locke and Key TV series off the ground. The first one got as far as a pilot directed by Mark Romanek, but Fox opted not to move forward with it. 
The Locke & Key comic book series, which ran from 2008 through 2013, follows the three Locke siblings, who return to their family estate in Massachusetts after the gruesome death of their father. Once there, they discover magical keys that grant special powers and open strange doors. Unfortunately, they're not the only ones interested in these mysterious artifacts, as a supernatural force is also after them.
The books were critically and commercially successful, and the move to adapt them for the screen began very early on. Dimension Films acquired the rights around 2008 with the intent of making a Locke & Key movie, but after making little progress they lost the rights in 2010 to DreamWorks. Roberto Orci and Alex Kurtzman signed on to produce that iteration of the project, and eventually reworked it as a television series. 20th Century Fox greenlit a Locke & Key pilot, but ultimately decided against ordering it to series.
The Locke & Key pilot was shown at Comic-Con in 2011, sparking hopes that another network might scoop it up — and for a moment there, it looked like MTV might bite. But nothing came of that either, and in 2012 Universal began trying to adapt Locke & Key as a feature film trilogy. As of 2014, Albert Torres was working on the script and Kurtzman and Orci were still set to executive produce. None of them appear to be involved with the latest Locke & Key TV series attempt.
Said Hill in a statement:
I love this story. The seven years I spent working on Locke & Key was the happiest creative experience of my life and there still isn't a day when I don't think about those characters and miss visiting with them. The six books of the series are very like six seasons of a cable TV series and so it feels only natural to bring that world to the little screen and to see if we can't scare the pants off viewers everywhere.
IDW is developing Locke & Key as a straight to series project before finding it a network home. Hill's comments suggest Locke & Key will likely end up on cable (or maybe a streaming service like Amazon or Netflix), as opposed to a broadcast network. Locke & Key has had a long, bumpy road to the screen, but fans should take heart — this latest development suggests IDW isn't giving up yet. And hey, if Preacher can finally make it to television after nearly two decades of false starts and on-again, off-again development, maybe there's hope for Locke & Key.