'Roadies' Teaser Trailer: "Like A Fellini Film Crossed With A 'Monkees' Episode"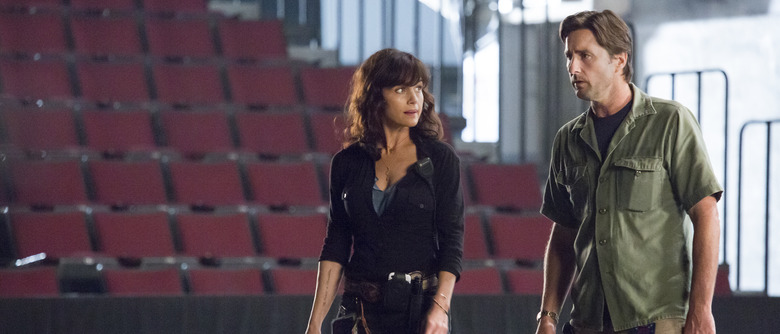 Cameron Crowe's track record has been hit or miss as of late. Elizabethtown drew limp reviews and even limper box office totals; We Bought a Zoo fared a bit better but quickly faded from memory; and Aloha was famous mostly for its bizarre casting of Emma Stone as a part-Asian character. But we're in his corner here at /Film (it's practically a running joke how many of us consider Almost Famous among our favorite films of all time), so we've got high hopes for his foray into television with Roadies.
As the title suggests, the new Showtime drama centers on a group of backstage workers following a hit arena band on a 60-show, 43-city tour. The premise seems just about perfect for Crowe, whose passion for music is outweighed only by his identification with "the uncool" — the earnest and vulnerable and romantic outsiders surrounding the cool guys on stage. Luke Wilson, Carla Gugino, Imogen Poots, Rafe Spall, and Keisha Castle-Hughes are among the main cast. Watch the latest Roadies teaser trailer after the jump.
The Roadies teaser trailer is less revealing than some of the other marketing material we've seen so far, and is pretty light on plot. What it does have is a fantastic sense of energy, and what we're assuming is a pretty good representation of the show's warm-hearted, exuberant vibe. You get a pretty good sense of the quirky little "family" that these roadies have created together, and of their genuine love for the music and for each other.
Roadies hits Showtime Sunday, June 26 at 10 PM ET / PT.
Roadies gives an insider's look at the reckless, romantic, funny and often poignant lives of a committed group of "roadies" who live for music and the de facto family they've formed along the way. The music-infused ensemble comedy series chronicles the rock world through the eyes of music's unsung heroes and puts the spotlight on the backstage workers who put the show on the road while touring the United States for a successful arena-level band. Starring Luke Wilson, Carla Gugino and Imogen Poots.