'Inferno' Teaser Trailer: Tom Hanks Is Humanity's Final Hope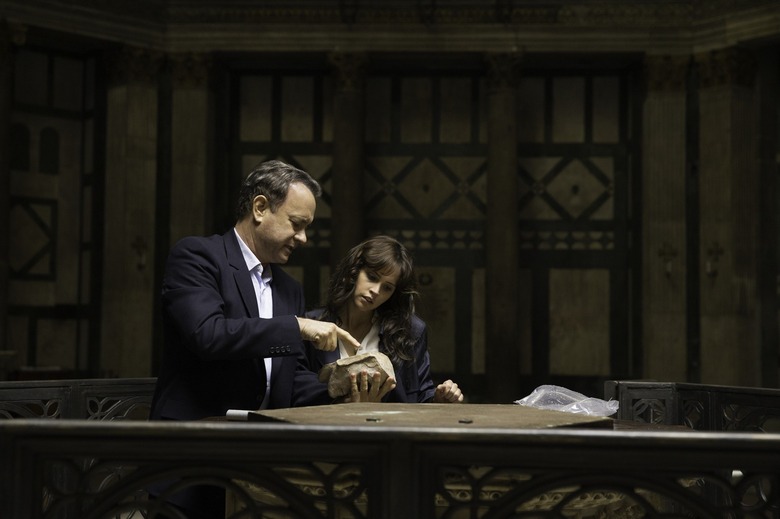 Tom Hanks can currently be seen onscreen in Tom Tykwer's A Hologram for the King — not that anyone would know, considering the total lack of marketing or buzz surrounding that movie. But Sony is taking pains to ensure Hanks' next movie will not be so completely overlooked. The studio has dropped the first action-packed trailer for Inferno, which sees Hanks reprising his role from The Da Vinci Code and Angels & Demons as symbologist Robert Langdon.
This time, the good professor wakes up in Florence with a seriously disturbing case of amnesia. With the help of Dr. Sienna Brooks (Felicity Jones), he finds himself in a race against time to stop a deadly plague meant to "solve" the world's overpopulation problem. Dante's Inferno is also involved, somehow, hence the title. Watch the Inferno teaser trailer below. 
If we need to entrust someone with the fate of all humanity, Hanks seems as good a choice as any. Even as an unlikely action star, he makes for such a likable presence that it's hard not to root for him. Starring alongside Hanks and Jones in this one will be Ben Foster as the villain, super-rich scientist Bertrand Zobrist; Irrfan Khan as Harry Sims a.k.a. "The Provost" (why he's called that, I assume the movie will explain); Omar Sy as Christoph Bruder; and Sidse Babett Knudsen as World Health Organization head Dr. Elizabeth Sinskey.
Inferno drops into theaters October 28.
Academy Award® winner Ron Howard returns to direct the latest bestseller in Dan Brown's (Da Vinci Code) billion-dollar Robert Langdon series, Inferno, which finds the famous symbologist (again played by Tom Hanks) on a trail of clues tied to the great Dante himself. When Langdon wakes up in an Italian hospital with amnesia, he teams up with Sienna Brooks (Felicity Jones), a doctor he hopes will help him recover his memories. Together, they race across Europe and against the clock to foil a deadly global plot.