'Justice League' Adds 'Justice League' Star Ben Affleck As Executive Producer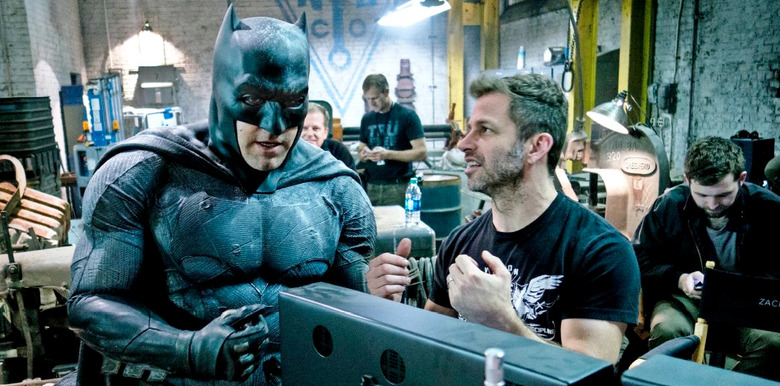 As the newest big-screen iteration of Batman, Ben Affleck already plays a key role in Warner Bros.' DC Extended Universe. Affleck's Dark Knight made his debut in this spring's Batman v Superman: Dawn of Justice and will be back onscreen for this summer's Suicide Squad, and then he'll get his own solo movie in the not-too-distant future with Affleck himself behind the camera.
And as if all that weren't enough, Affleck is now digging even deeper into the future of the franchise. The two-time Oscar winner has signed on to executive produce the upcoming Justice League movie, which he's already starring in for director Zack Snyder. 
Deadline reports that Affleck is executive producing "to be supportive of Snyder," and the he'll work with Snyder and screenwriter Chris Terrio "to make the film the best it can be." Justice League has already been shooting for weeks, so this move is a little surprising this late in the game. However, after the disappointment of Batman v Superman, Warner Bros. seems determined to get DC franchise back on track. While the film made plenty of money (it's currently at $864 million and counting), it disappointed lots of fans — which is a huge problem considering Warner Bros. was counting on those fans to turn out for the rest of their planned DC superhero movie slate.
Having a respected filmmaker like Affleck on board to executive produce could help steer the franchise back on course, not to mention bring the project some much-needed positive buzz. Not only does Affleck get along great with Snyder, he's also worked with Terrio before on Argo. Both of them came away with Oscars for that one, Terrio for Adapted Screenplay and Affleck for Best Picture. Hopefully Affleck's presence as an executive producer will help Justice League avoid the sloppy storytelling that dragged down Batman v Superman.
As an actor, Affleck will lead Justice League alongside Henry Cavill as Superman, Gal Gadot as Wonder Woman, Jason Momoa as Aquaman, Ezra Miller as the Flash, and Ray Fisher as Cyborg. The film arrives November 17, 2017. Warner Bros. has yet to announce a date for Affleck's solo Batman movie, but expect it to arrive in 2018 or later.