Alden Ehrenreich Is Your New Han Solo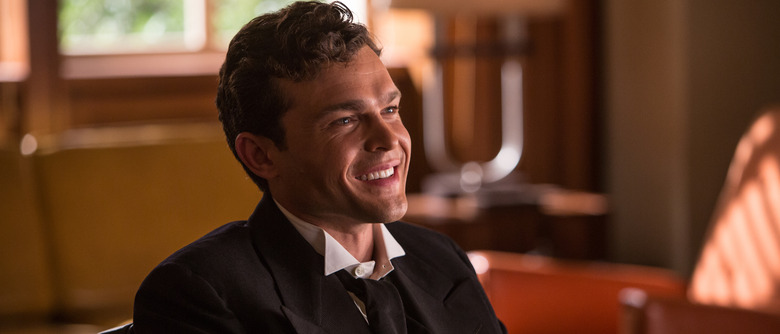 May the 4th has come and gone, but Phil Lord and Chris Miller have a belated Star Wars Day gift for us. The directors have just cast Alden Ehrenreich as Han Solo in the upcoming Star Wars spinoff, due out in 2018. The 26-year-old Ehrenreich broke out in a big way this year with a standout turn in Hail, Caesar!, directed by the Coen brothers. 
It's been a few months since we first heard Ehrenreich was in the mix to play Han Solo, and a few weeks since we heard he'd become the frontrunner. Today, TheWrap reports that Ehrenreich is in the process of closing his deal for the Han Solo spinoff due out May 25, 2018. Lord, Miller, and Lucasfilm cast a very wide net, with literally thousands of actors auditioning for the part. Han Solo is such an iconic character — and one so closely identified with Harrison Ford — that finding the right actor seemed like a tricky proposition. But the naturally charismatic Ehrenreich seems like a great fit.
Lawrence Kasdan and Jon Kasdan wrote the script for the Han Solo spinoff. Plot details are (no surprise) being kept under lock and key, but word is the Han Solo spinoff will follow the roguish hero as he links up with the Rebel Alliance. His trusty partner Chewbacca will play a key role, and some have speculated that Han will brush up against notorious bounty hunter Boba Fett. But we might get to see Ehrenreich shoot first before that — rumor has it he'll debut in this December's Rogue One: A Star Wars Story.
Ehrenreich has been kicking around since Steven Spielberg discovered him at a friend's bat mitzvah in the 2000s. He made his feature film debut in Francis Ford Coppola's Tetro, and has since popped up in the supernatural YA romance Beautiful Creatures, Chan-wook Park's Stoker, and Woody Allen's Blue Jasmine. But it was his scene-stealing turn in February's Hail, Caesar! that really made him the white-hot rising star du jour. In an ensemble lousy with A-listers like George Clooney, Scarlett Johansson, and Channing Tatum, Ehrenreich emerged as the film's most pleasant surprise. Check out one of his best scenes from the movie below.