Ava DuVernay Leaves Colin Trevorrow's 'Intelligent Life'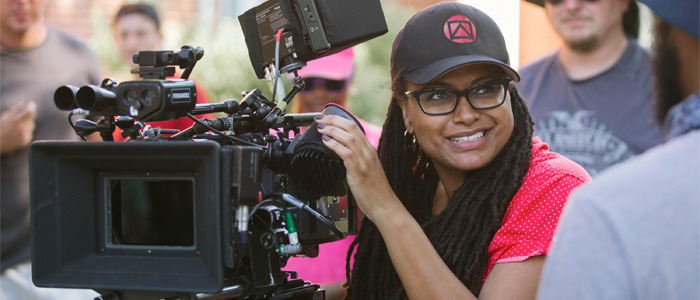 Following the stunning success of Selma, Ava DuVernay found herself in high demand, getting courted for everything from Black Panther to A Wrinkle in Time even as she set up projects at OWN and HBO. But even DuVernay can only be in so many places at once, so this week she's taking one item off her to-do list. DuVernay has exited DreamWorks' Intelligent Life, a sci-fi project co-written by Colin Trevorrow which has Lupita Nyong'o attached to star. 
The Hollywood Reporter's sources trotted out that old familiar line about "scheduling conflicts" to explain DuVernay's departure from Intelligent Life. In this case, though, the story seems to check out. DuVernay has been busy putting together her new OWN drama series, Queen Sugar, and is attached to helm Disney's fantasy adaptation A Wrinkle in Time. She also has a Hurricane Katrina drama in development with her Selma star David Oyelowo, and recently signed on to direct the historical drama The Battle of Versailles for HBO Films. It's still unclear which of these films will move forward first, but she's got more than enough options to choose from even with Intelligent Life off her plate.
Still, it's an unfortunate setback for the original sci-fi project. Co-written by Trevorrow and Derek Connolly, the story follows a United Nations employee whose job is to monitor outer space for potential contact with extraterrestrials. He meets and falls for a beautiful woman who may actually be an alien. The script has been compared to Trevorrow and Connolly's Safety Not Guaranteed, in that it combines a high-concept sci-fi premise with a character-driven story.
Originally, the plan was for Trevorrow to direct the sci-fi pic himself after Jurassic World. But after he got called off to a galaxy far, far away, DuVernay started circling the job. With Nyong'o still on board to star, though, and with Trevorrow, Frank Marshall, and Steven Spielberg's Amblin Entertainment all producing, Intelligent Life shouldn't have too much trouble attracting a replacement.