'Now You See Me 2' Director Jon M. Chu Takes On 'Crazy Rich Asians'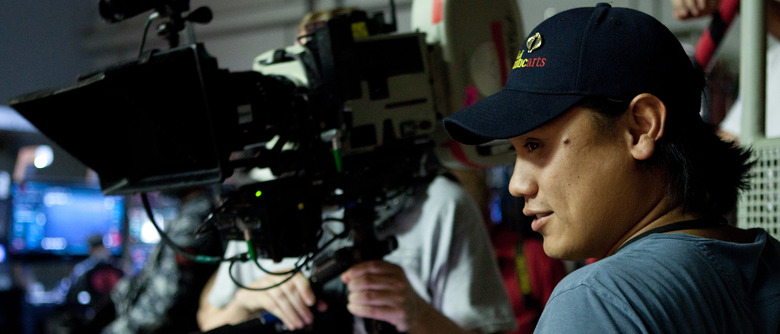 As his latest film Now You See Me 2 prepares for a summer release, director Jon M. Chu has lined up his next magic trick: he's going to conjure up an adaptation of Kevin Kwan's 2013 novel Crazy Rich Asians. The project sounds miles away from the action- and dance-driven spectacles that Chu's built his career on, and not just because it takes place on the other side of the Pacific. 
As reported by THR, Chu is currently in talks to direct Crazy Rich Asians. Kwan, the author, will executive produce, and Nina Jacobson, Brad Simpson, and John Penotti are producing. Color Force, which scooped up the film rights all the way back in 2013, is developing with Ivanhoe Pictures.
Kwan's book follows an American-born Chinese woman who accompanies her boyfriend to his best friend's wedding in Singapore. What she doesn't quite grasp beforehand is that he's the eligible scion of one of the wealthiest families in Asia. Once she arrives, she gets caught up in the drama of his upper-crust family and the extravagantly rich circle surrounding them. The book's sharp, satirical tone has shades of Pride and Prejudice, and the story is driven by character and culture. It's a stark contrast from Chu's earlier work, which includes two Step Up movies, that Justin Bieber documentary, and G.I. Joe: Retaliation.
The news arrives as Hollywood comes under fire for its treatment of Asians — a conversation most recently sparked by whitewashing in Ghost in the Shell and Doctor Strange, but an issue that extends to the lack of significant roles for non-white actors in general. In fact, even Crazy Rich Asians hasn't been completely immune to the industry's regressive tendencies. Kwan revealed in an interview last year that he'd initially been approached by a producer who wanted to turn the Asian-American protagonist into a white woman.
The Crazy Rich Asians movie clearly isn't a reaction to the recent controversy (as mentioned, it's been in development for years) but it couldn't be moving forward at a better time. Kwan has expressed his hopes that the film will provide opportunities for actors of color. "My hope is that there will be equal representation in terms of Singapore stars, Hong Kong stars, Asian American stars, mainland Chinese stars," he said last year. "I would love for it to be like a dream team cast."
There's no word yet on when Crazy Rich Asians will get rolling. As of last summer, Pete Chiarelli (The Proposal) was putting the finishing touches on the latest draft of the script. In the meantime, Chu's got plenty of other projects to choose from. He's attached to direct and produce Paramount's action pic Escape, and has been linked to the '90s dance movie Can't Touch This.