Universal Monsters Movie Dated For 2019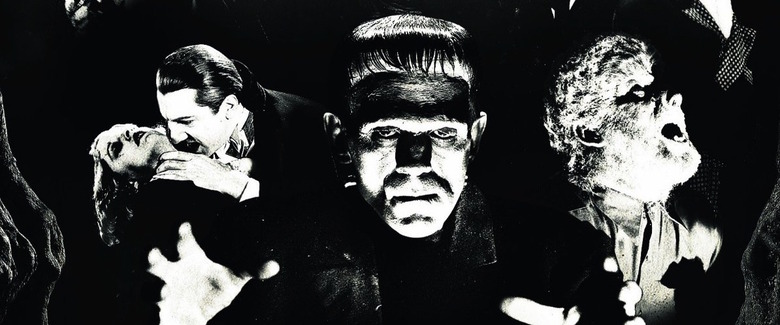 Universal's upcoming slate just got a little bit spookier. The studio has locked down a 2019 release date for the third installment of its nascent Universal Monsters franchise, which kicks off in 2017 with a reboot of The Mummy and continues in 2018 with an as-yet-untitled film. In addition, they've also set aside a spring 2018 date for an unrelated R-rated comedy. 
TheWrap reports the third Universal Monsters movie will arrive February 15, 2019 — President's Day weekend. It is currently the only film set for that date, although Paramount's SpongeBob Squarepants 3 opens one week prior on February 8, 2019. Chris Morgan and Alex Kurtzman are overseeing the Universal Monsters universe, with a writers room that includes Aaron Guzikowski (Prisoners), Noah Hawley (Fargo), and Ed Solomon (Now You See Me).
Kurtzman is also directing The Mummy, which opens up the rebooted Universal Monsters series on June 9, 2017. Shooting is already underway with Tom Cruise and Sofia Boutella in the leads. The second Universal Monsters movie will land on April 13, 2018. There's no word yet on which monsters will claim the 2018 and 2019 release dates. Possible contenders include The Invisible Man, which already has Johnny Depp set to star; Bride of Frankenstein, which is being written by David Koepp; and The Wolfman, which was written by Guzikowski.
The idea behind the Universal Monsters reboot is for horror icons like Dracula, Van Helsing, Bride of Frankenstein, and the Wolf Man to inhabit the same Marvel-styled hared universe. "The characters will interact with each other across movies," confirmed Universal Pictures chair Donna Langley last year. "We're incubating it at the moment, and we're taking the time to get it right."
Although early reports suggested that the Universal Monsters movies might fall more into the action-adventure genre, Kurtzman has promised that they won't abandon the originals' horror roots. "I promise you there will be horror in these movies," he insisted. "It is our life goal to make a horror movie. The tricky part is actually how you combine horror with either adventure or suspense or action and be true to all the genres together."
Indeed, their research apparently involves not just the original Universal Monster movies, but some Hammer horror classics as well. "This is not a heightened world," Morgan has said. "We're exploring issues of family identity and questions of, 'Where do I belong in the world?" Which all sounds well and good, but it'll be some time before we see how these plans actually pan out.
Oh, and as for that R-rated comedy we mentioned at the top of the article: Universal says it's coming April 20, 2018, which pits it against an untitled New Line tentpole. Your guess is as good as ours as to what either of them actually are.