Mark Millar's 'Empress' Is Getting Turned Into A Movie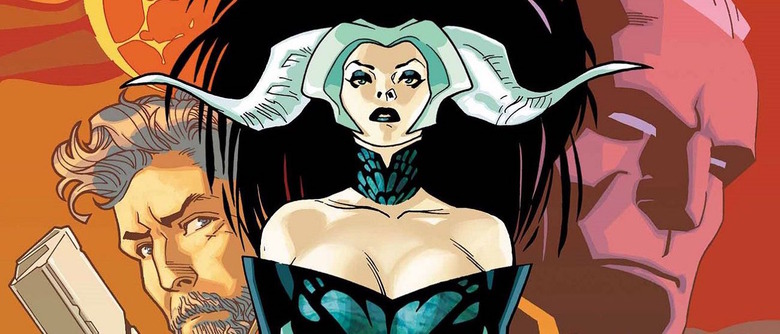 Hollywood's favorite comic book writer, Mark Millar, is preparing to bring yet another one of his stories to the big screen. Millar is joining forces with Joe Roth and Jeff Kirschenbaum for an adaptation of his latest new title, Empress, described as "part Star Wars, part Guardians of the Galaxy." F. Scott Frazier (xXx: The Return of Xander Cage) is on board to write the script.
The news comes just one week after two of Millar's other comics, Supercrook and American Jesus, were scooped up by Waypoint Entertainment, and days before Marvel's Captain America: Civil War, based on a comic book storyline by Millar, hits theaters. Seriously, the movie industry cannot get enough of this guy. 
Published by Marvel's Icon imprint, Empress #1 made a big splash when it hit stores in April, selling out and drawing strong reviews. Empress #2 lands this week. The Hollywood Reporter got the scoop on the Empress movie, and describes the story as follows:
The comic, co-created and drawn by Stuart Immonen, centers on the wife of a galactic dictator (a la Ming the Merciless from Flash Gordon) who makes the decision to leave her evil husband and take her three kids with her. With the aid of a bodyguard, she escapes with her brood — Aine, her 15-year-old daughter who wants to be with her father; Adam, her gentle soul of a 10-year-old son who she knows would not survive the trials ahead to be an elite ruler; and Puck, her 18-month-old — to her home world. But the dictator husband, with armies at his disposal, isn't going to let her go without a fight.
Although the Empress movie was only officially announced today, Millar has been hinting at the news for weeks on Twitter.
Who is the actress? 10 hours from now the scarf comes off!#EmpressComic #EmpressMovie #MillarImmonen pic.twitter.com/AXkOiNklxP

— Millarworld (@mrmarkmillar) April 6, 2016
Next stage of the #EmpressMovie reveal. Can you guess the actress yet when only disguise is a pair of glasses? pic.twitter.com/i1y6aFyFat

— Millarworld (@mrmarkmillar) April 7, 2016
Roth's credits include the fantasies Alice in Wonderland, Maleficent, Oz the Great and Powerful, and Snow White and the Huntsman. He and Kirschenbaum are currently working together on xXx: The Return of Xander Cage. Kirschenbaum was the executive at Universal who brought in Millar's Wanted, turning it into a hit movie starring Angelina Jolie and James McAvoy. (Never mind that the film strayed pretty far from Millar's source material.)
In addition to Wanted, Millar also created the comics that spawned Kick-Ass and its sequel and Kingsman: The Secret Service and its sequel (which is shooting now). He spent some time overseeing 20th Century Fox's Marvel movies, and we've heard that the next and last Wolverine film might be based on his comic book storyline "Old Man Logan." Projects based on his titles Jupiter's Legacy, Chrononauts, Starlight, MPH, Superior, Nemesis, Kindergarten Heroes, and War Heroes have also been in various stages of development around town over the past few years.