Kate McKinnon & More Join Scarlett Johansson In Comedy From 'Broad City' Duo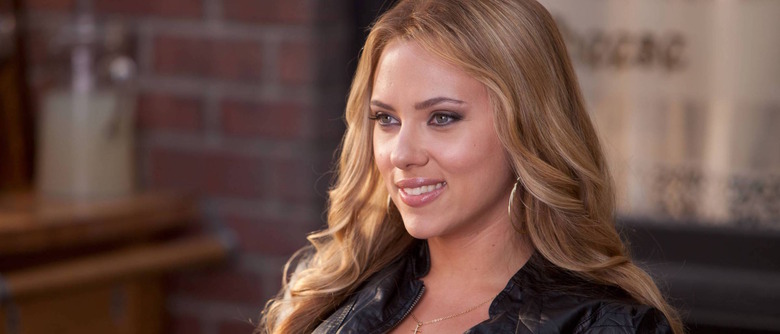 We've seen Scarlett Johansson do everything from arthouse sci-fi to indie rom-com to big-budget action over the past few years, but her latest new project, Rock That Body, takes her into still new territory: the R-rated comedy. Luckily, she'll have some experienced comedy vets on hand to help her out. Kate McKinnon (Ghostbusters), Jillian Bell (22 Jump Street), and Ilana Glazer (Broad City) have just joined Johansson and Zoë Kravitz in Rock That Body, which comes from Broad City writers Paul W. Downs and Lucia Aniello. Downs (who also plays Trey on Broad City) will co-star, and Aniello will direct. 
Aniello and Downs' Rock That Body script landed on the Black List last year, back when it was titled Move That Body. The story revolves around five friends who rent a beach house in Miami for a wild bachelorette weekend, and accidentally end up killing a male stripper. Character details have not been revealed, but we're guessing Johansson, Kravitz, McKinnon, Bell, and Glazer play the friends and Downs will be the stripper.
Sony scooped up the project last summer after a fierce bidding war, and according to THR, the studio sees Rock That Body as a "complement" to their other high-profile female-driven comedy, the Ghostbusters reboot coming out next month. That seems a little reductive — is it really so crazy to have more than one female-driven comedy simmering at a time, that we need to justify it by comparing it to a completely unrelated project? — but if it means more work for comedic talents like this, it's hard to complain.
Glazer works with Aniello and Downs on Broad City, and recently re-teamed with them for the Comedy Central miniseries Time Traveling Bong. She was last seen on the big screen in The Night Before, which also starred Bell. Bell is also part of the Comedy Central family thanks to Workaholics and Idiotsitter, and her big-screen credits include 22 Jump Street and Goosebumps. Coming up next for Bell are The Angry Birds Movie and Office Christmas Party, both of which also feature McKinnon. And McKinnon, as you already know, is a Saturday Night Live alum who stars in the Ghostbusters reboot.
There's no doubt that Glazer, Bell, and McKinnon will bring the funny, but it should be interesting to see how they bounce off of Johansson and Kravitz, who are relatively less experienced with comedy. Both have some lighter material on their resume, but are better known for dramas and blockbusters.
Rock That Body doesn't have a release date yet, but with shooting scheduled to begin in August we can probably look for it to hit theaters sometime next year. Matt Tolmach and Dave Becky are producing with Aniello and Downs.