Original 'Ghostbusters' Returning To Theaters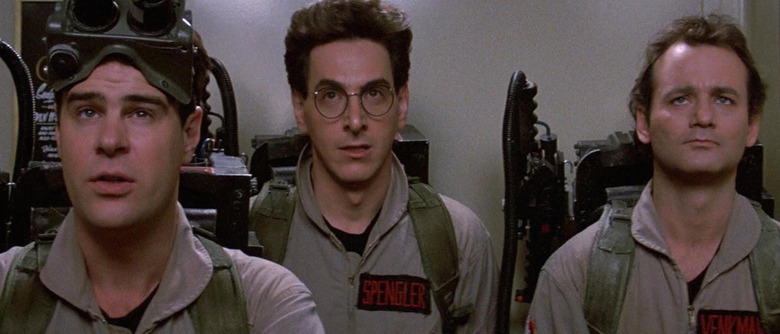 We're gonna be calling a whole new team of Ghostbusters this summer, as Paul Feig's reboot has Kristen Wiig, Melissa McCarthy, Kate McKinnon, and Leslie Jones strapping on those proton packs for the very first time. But before we get there, perhaps you'd like to take a minute to look back at the old Ghostbusters team.
Fathom Events has announced the original Ghostbusters will be coming back to theaters for a special engagement in June. And if you'll be in or around Brooklyn next month, you're really in luck, as BBQ Films is hosting an immersive Ghostbusters screening experience inside a recreation of the Ghostbusters headquarters. 
Wednesday, June 8, 2016 marks 32 years to the day since Ivan Reitman's original Ghostbusters opened in theaters. It's also exactly one month and one week before Feig's new Ghostbusters hits theaters. So basically, it's the perfect time to remember how great the original film was while also getting pumped for the new film.
First up, Fathom Events will be re-releasing the film in 750 theaters across the U.S. on June 8. If you're busy that day, fear not — there will also be an encore presentation on Sunday, June 12. There will be two showings each day, at 2 PM and 7 PM. And as if the joy of seeing the classic Ghostbusters back on the big screen weren't exciting enough, the event will also feature a sneak peek at some footage from Feig's Ghostbusters. Tickets go on sale Friday, May 6; keep an eye on the Fathom Events website or your local theaters for updates.
Also happening that week is BBQ Films' Ghostbusters immersive experience and screening, which begins at 7 PM for three nights from Wednesday, June 8 through Friday, June 10. Fans will arrive at the Villain event space in Williamsburg, which will have been transformed into the Ghostbusters headquarters, and get to try on some ghostbusting gear, grab some adult ecto-beverages, chill out with some ghosts, and of course, watch the movie itself. The event also promises "exclusive content and props" from the new Ghostbusters. Tickets in the "Friend of Slimer" tier (which offers a few extra perks) are all sold out, but you can still buy "New Recruit" tickets at the BBQ Films website.
Feig's Ghostbusters opens July 15.