Netflix Orders Marvel's 'Punisher' Spinoff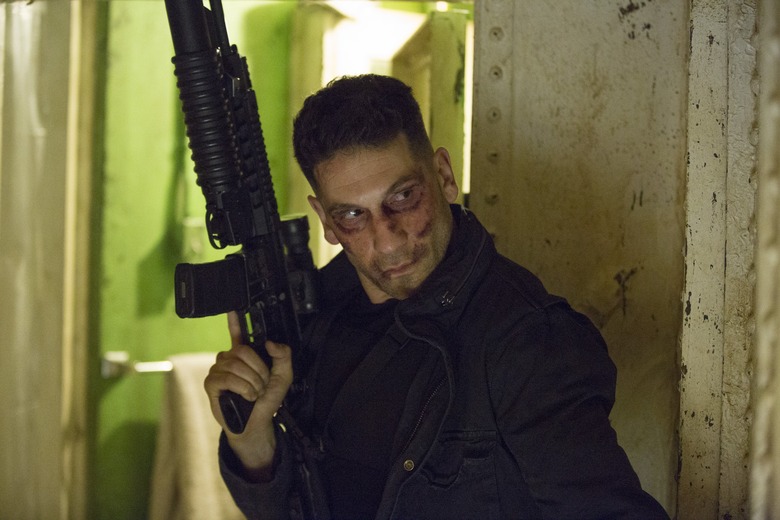 Even before the Punisher made his Marvel Cinematic Universe debut in the second season of Daredevil, rumors abounded about the possibility of a Punisher spinoff. He's a popular character to begin with, after all, and Jon Bernthal couldn't be a better choice to play him. Then the character actually appeared on the show, and proved to be everything fans had hoped for. The calls for a Punisher spinoff only got louder. And now, Marvel is finally ready to make its move.
A Punisher spinoff has reportedly been ordered by Marvel, with Bernthal set to return as the vigilante character. Steve Lightfoot (Hannibal) will write, executive produce, and serve as showrunner.
Entertainment Weekly broke the news of the Punisher spinoff. This makes Punisher the sixth Marvel series at Netflix, after Daredevil, Jessica Jones, and the upcoming Luke Cage, Iron Fist, and The Defenders. As of now, it's unclear whether Bernthal's Punisher will appear in The Defenders, an Avengers-style team-up which brings together Netflix's other four street-level heroes (Charlie Cox's Daredevil, Krysten Ritter's Jessica Jones, Mike Colter's Luke Cage, and Finn Jones' Iron Fist).
We've been hearing for a while that Netflix was eyeing the possibility of a Punisher solo series, though Marvel has insisted that nothing is official yet. According to Entertainment Weekly's sources, they'll make the official announcement later today. Vigilante Frank Castle definitely has enough of a following to lead his own project, and his grim and deadly antihero persona is a perfect fit for this darker, grittier corner of the Marvel Cinematic Universe.
Lightfoot is a veteran of British TV whose credits include Casualty and Hannibal. He began writing for the latter series in season 1 and was promoted to executive producer in season 2.
There's no word yet on when the Punisher series will get going, but while we wait for updates you can check out the first teaser image below: