'Yoga Hosers' Release Date And Tour Announced; MPAA Changes Rating To PG-13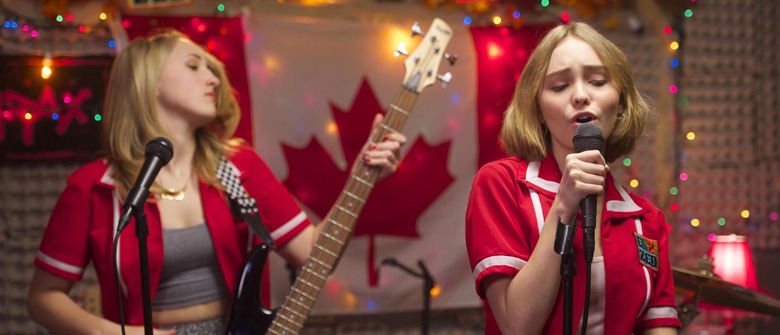 For the fourth time in his career, writer-director Kevin Smith had gotten into a disagreement with the Motion Picture Association of America, due to the rating of his latest film, Yoga Hosers. However, before the scheduled appeals screening even occurred, the MPAA took another look at the film and decided it was only fair to give Smith his desired PG-13 rating. Now that all of that MPAA nonsense is behind the director, he's ready to take Yoga Hosers on tour this summer.
Find out below when and where you can see Smith present Yoga Hosers live.
Yoga Hosers will open in theaters July 29th. Starting June 1st, Smith will go on tour with the film, but he's only stopping in a handful of cities. Back in 2011, the director had a few more stops on his successful Red State tour, and the tickets for that screening and Q&A event ranged from $50-$100. There's currently no information on how much a ticket will cost to see Smith present Yoga Hosers.
Here are the cities Smith is visiting this summer:
6/1 – New Orleans, LA at the Joy Theater
6/2 – Ponte Vedra, FL at Ponte Vedra Concert Hall
6/6 – Houston, TX at The Houston Improv
6/12 – Columbus, OH at Studio 35 Cinema & Drafthouse
7/8 – Durham, NC at The Carolina Theatre
7/12 – San Jose, CA at The Improv
7/17 – San Francisco, CA at Cobbs Comedy Club
Tickets will go on sale this Friday. Newly launched distributor Invincible Pictures are handling the tour and Yoga Hosers's theatrical release. In a statement to Variety, Smith praised the distributor for backing "the least appropriate kids' movie ever made":
I can't thank [Invincible Pictures CEO] Tom [Ashley] and the whole Invincible team enough for backing the weirdest, least appropriate kids' movie ever made. 'Yoga Hosers' means the world to me: because my family is in it and because it's the movie I most wanted to see back when I was a 12-year-old girl. And even though I made the people I love most in this world do and say some of the stupidest s— ever put in a movie, I was still very particular about who would shepherd our film into the box office wild lands. Invincible made a passionate case for making us their inaugural theatrical release. And even though I took four years of Spanish in high school, passion is my second language. I can't wait to tour the movie and watch it right beside the audience every night, and then answer for my sins afterwards.
At Sundance, Peter described Yoga Hosers as "a cross between an absurd live-action cartoon created by a stoner and a '90s-style teenage comedy," which is a good enough description to let you know whether this movie is for you or not. Over the past few years, Kevin Smith has arguably distanced some of his fans, by taking some big, unexpected swings as a filmmaker, with movies like Red State and Tusk, but he still has a passionate fanbase, an audience willing to pay decent money to see him discuss Yoga Hosers in person.