Marvel Is Making The Creative Decisions On 'Spider-Man: Homecoming', Says Kevin Feige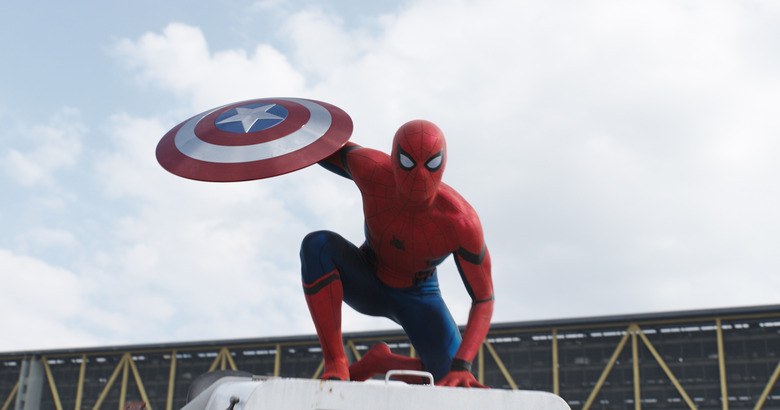 It was big news when Sony and Marvel announced they'd worked out a deal to bring Spider-Man into the Marvel Cinematic Universe. And the word on Captain America: Civil War is that the new Spidey, played by Tom Holland, gets off to a fantastic start. But Civil War is a movie released by Marvel Studios. Holland's first solo outing, Spider-Man: Homecoming, is being distributed by Sony. So who really holds Spider-Man's future in their hands?
Well, new comments by Kevin Feige suggest it's Marvel, not Sony, which will have creative control over the character. Which should come as a huge relief if you weren't a fan of Sony's handling of the past two Spider-Men.
Feige spoke with Hey U Guys at the U.K. premiere of Captain America: Civil War. Asked about the complicated deal between Sony and Marvel, Feige replied:
Well, I've known all those people for a very long time. Amy Pascal, Tom Rothman, who runs Sony now, I've known for years. So, it's been great. They really are supportive in allowing us to make the creative decisions to make [Spider-Man: Homecoming], but they've been great partners. So far so good on that movie.
Sony's still the one releasing Spider-Man: Homecoming in theaters, but it sounds like Marvel is more or less running the show on the creative side. That may be the best-case scenario for everyone involved. The character got off to a great start at Sony with Sam Raimi's first two Spider-Man films, but the third one was a bloated mess. The studio then rebooted the character, which only made things worse. Marc Webb and Andrew Garfield's films weren't without their charms, but the timing made them feel redundant and the narrative kept getting tangled in its own mythology.
Marvel Studios, on the other hand, has spent the past decade building up a sterling reputation for growing franchises. Its track record isn't perfect, but the studio seems to have a firm grasp on who each character is, and has been reasonably successful at balancing individual films with the need for ever-more-expansive mythology-building. If anything, Marvel might even be too controlling and conservative with their properties — but after the sloppiness of the past three Spider-Man movies, some restraint might be just what your friendly neighborhood webslinger needs.
Meanwhile, Sony still holds the reins on a couple of other Spidey and Spidey-adjacent projects. There's the animated Spider-Man movie being produced by Phil Lord and Chris Miller (who will not direct, as they'll be busy making that Han Solo movie), and the Venom movie that won't have anything to do with Spider-Man: Homecoming or the MCU.
Captain America: Civil War hits theaters on May 6, 2016, and Spider-Man: Homecoming on July 7, 2017.