'Wolverine 3' Casts Richard E. Grant As Mad Scientist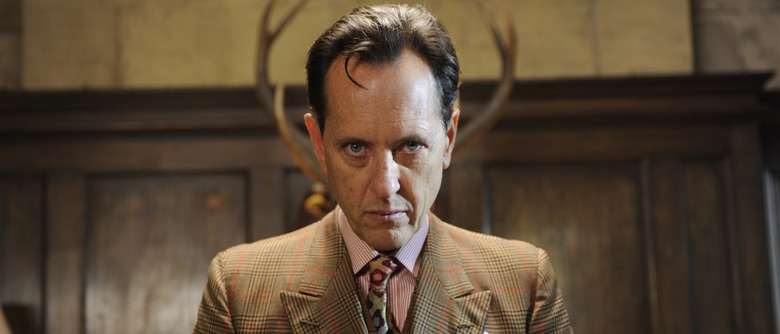 Wolverine's never really been one for making friends, but he sure is good at making enemies. Richard E. Grant has joined Wolverine 3 in a villainous role, joining Boyd Holbrook as another baddie. Hugh Jackman, of course, returns to play Wolverine one final time, while Patrick Stewart reprises his role as Professor X. 
The Hollywood Reporter writes that Grant will play "a villainous mad-scientist type," but doesn't offer any further details about his character. It's unclear whether he's been cast as an entirely new character invented for the movie, or a familiar character from the comics. (Holbrook is said to be playing an original character, so the filmmakers clearly aren't afraid to invent new characters.)
James Mangold is directing Wolverine 3 from a script by Michael Green and David James Kelly, which will be inspired by the "Old Man Logan" comic book arc by Mark Millar and Steve McNiven. The original story picks up in a dystopian future. Wolverine has long since retired to a quiet life with his family, but gets sucked back into superhero drama when an old friend approaches him for help delivering a package.
There have been rumors that Liev Schreiber could return as Sabretooth, or that X-23 could make her big-screen debut. However, only existing characters confirmed for Wolverine 3 right now are Professor X and Wolverine himself.
Whoever shows up, the plotline sounds like a fitting swan song for Jackman's Wolverine, who's been with the X-Men franchise since it began in 2000. He's appeared in every X-Men movie to date, aside from Deadpool, and has an appearance in this summer's X-Men: Apocalypse. Wolverine 3 will be his final performance as the mutant superhero.
Grant's recent credits include the short-lived USA series Dig and the British drama Jekyll & Hyde. He's had recurring roles on Downton Abbey, Doctor Who, and Girls, and will be seen on this season of Game of Thrones. His film credits include Dom Hemingway and The Iron Lady.
Wolverine 3 is scheduled to arrive March 3, 2017. Lauren Shuler Donner and Hutch Parker are producing.