Neil Gaimain Writing 'Good Omens' Miniseries; Cloris Leachman And Peter Stormare Join 'American Gods'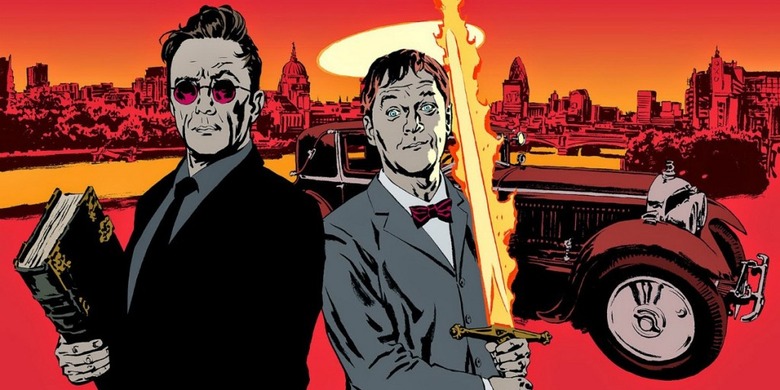 An adaptation of Neil Gaiman and Terry Pratchett's Good Omens: The Nice and Accurate Prophecies of Agnes Nutter, Witch has been struggling to get made before the book itself was even published. For over a decade, starting around 1990, director Terry Gilliam tried time and time again to bring Aziraphale and Crowley's story to the big screen. When Johnny Depp and Robin Williams were attached to star as the angel and demon attempting to prevent the apocalypse, Gilliam still had no luck getting a studio interested.
After all of these years of waiting, though, Gaiman has decided to work on the adaptation himself. Learn more about the Good Omens miniseries below.
The news of a six-part Good Omens miniseries is bittersweet. Over a year ago, Pratchett passed away from a rare form of Alzheimer's. Shortly before that, Gaiman's collaborator convinced him to move forward with a Good Omens adaptation, despite Gaiman initially not wanting to see it happen without Pratchett's involvement.
At a recent public memorial held for Pratchett, it was mentioned that Gaiman was adapting Good Omens because of a letter his dear friend left him after his passing — but, in a recent post at his official site, the author behind Sandman and American Gods clarified that wasn't the case:
At the end of the evening, [Pratchett's assistant and friend] Rob [Wilkins] announced upcoming things, and one of the things he announced was GOOD OMENS on the screen, written by me. (There was a little confusion in the way that it was reported, by the way: because Rob had been talking earlier about the letters found in the safe that Terry had left us, people assumed that me writing was something Terry asked me to do from beyond the grave. Actually, it was more of a last request while he was still alive. ("I would very much like this to happen, and I know, Neil, that you're very very busy, but no one else could ever do it with the passion that we share for the old girl. I wish I could be more involved and I will help in any way I can," he wrote, once I said yes.)
I've been working on the Good Omens scripts for much of the last year, wishing that he was still here and could help, even if it was just to take a phone call. It's hard when I get stuck, and want to ask his advice. It's harder when I come up with something clever or funny that's new and I want to call him up and read it to him, and make him laugh or hear him point out something I'd missed. We were always each other's first audiences for Good Omens. That was the point. Neither of us had any idea whether or not we'd be able to sell this odd book or not, when we were writing it, but we knew that we could make the other one laugh. Anyway. I'm now 72% of the way through the Good Omens scripts, and the end is in sight.
Gaiman's plan is to finish the adaptation before his upcoming book, The View From the Cheap Seats, a selection of non-fiction essays, comes out at the end of May. Technically, this isn't the first adaptation of Good Omens. Back in 2014, Dirk Maggs adapted the novel for BBC Radio 4, because, as Gaiman told The Guardian, he wanted Pratchett "to be able to enjoy this while he's still able to." Shortly after the audio play was completed, Gaiman hinted at bringing Good Omens to television, but not until his recent blog post did he confirm the miniseries.
As for the other television adaptation the acclaimed writer currently has in the works, American Gods, a few new actors have joined the cast, which already includes Ricky Whittle (The 100), Emily Browning (God Help the Girl) and Ian McShane (Deadwood). Cloris Leachman (The Bride of Frankenstein), Peter Stormare (Fargo), Chris Obi (Ghost in the Shell), and more are confirmed to appear in the 10-episode first season of American Gods. Leachman will play Zorya Vechernyaya, "the eldest of three sisters who watch over the constellations," while Stormare will co-star as Czernobo, a "Slavic god of darkness and evil."