Sony Opens The Book On A 'Goosebumps' Sequel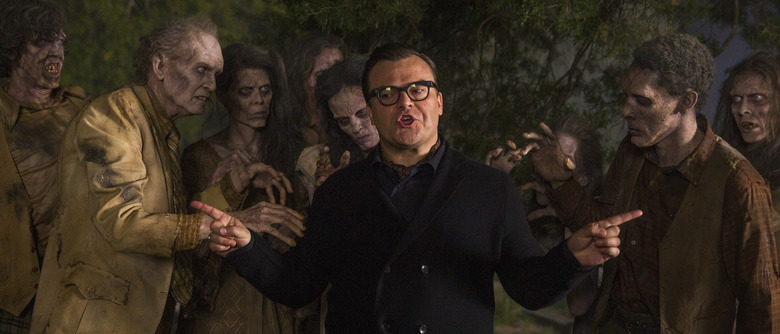 At this point, it's a given that if a studio movie based on a familiar property attains even a modest level of success, someone, somewhere has started thinking about a sequel. After all, Hollywood execs are in the business of making money — and if they've already shelled out huge sums of cash to scoop up a familiar brand, milking it for all it's worth just makes financial sense.
So it should come as no surprise that, after the solid-but-not-great returns from Goosebumps last year, Sony is now in the process of putting together a Goosebumps 2. Rob Letterman, who directed the first one, is in, as is screenwriter Darren Lemke. But what about Jack Black, who played Goosebumps author R.L. Stine? 
According to The Hollywood Reporter, Letterman and Lemke are closing deals to return for Goosebumps 2. Also back are producers Deborah Forte and Neal H. Mortiz. The trade's sources say getting Black back to play R.L. Stine is "the goal," which suggests he's not exactly locked in yet. Rumors of a possible Goosebumps sequel have been swirling since even before the first film hit theaters, but it sounds like the studio is finally starting to firm up their plans.
Stine's bestselling Goosebumps series launched in 1992, and a movie adaptation of Stine's books was in development for much of that time. The film project finally came to fruition at Sony last year, with a meta approach that included Stine himself as a character. In the movie, all the monsters Stine writes about in his Goosebumps stories are real, and he keeps them locked away in his manuscripts. When the creatures get loose, Stine and his young neighbors must race to catch them and protect their town.
Goosebumps fared just fine at the box office, taking in $156 million worldwide, and has also done well on home video / VOD. Like the books that inspired them, it managed to hit the sweet spot between goofy and spooky, and it was silly and kid-friendly without feeling cloying or dumbed-down. And the story ended in such a way that it shouldn't be too difficult to come up with an excuse to unleash the mayhem again.