New Star Wars Land Rendering Reveals The Layout Of The Star Wars Experience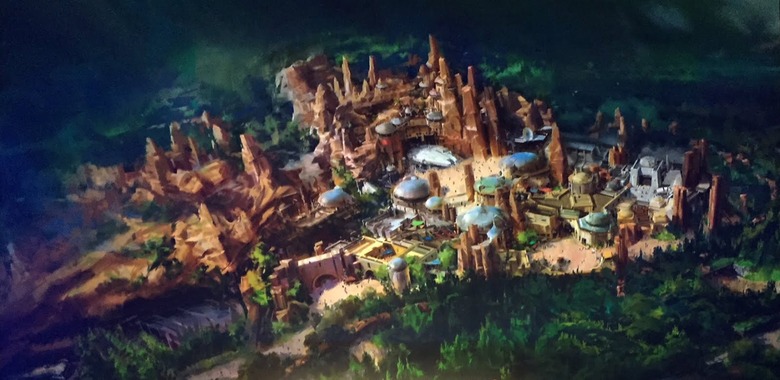 A new rendering of Disney's upcoming Star Wars Land has been released. The concept art by Walt Disney Imagineering's Greg Pro gives us a better look at the currently under construction theme park world which is expected to be called The Star Wars Experience. Hit the jump to see what we can learn from this new piece of concept art.
Disneyandmore points out that this new piece of Star Wars Land concept art seems to be different from the previously released pieces from the initial announcement at D23 Expo 2015 and the recently aired Disneyland 60 television special:
They theorize that Big Thunder Mountain maybe used to "avoid a visual intrusion that wouldn't fit with Disneyland Frontierland nearby" by essentially hiding these pillars of stone "from another planet." That might be some of the thought going into the tall rock pillars but the new concept art appears to be a look at the Star Wars Land coming to Hollywood Studios in Orlando Florida's Walt Disney World and not the one being built in Anaheim California's Disneyland.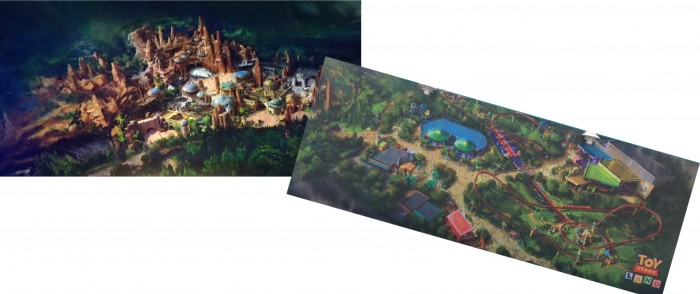 Jim Hill noticed that the entrance on the right side of the concept art shows the same arch seen in a recently released piece of Hollywood Studios' Toy Story Land concept art.
That said, we don't know just how much the two lands will be different from each other, if at all. I assume that because the layout of the land isn't exactly the same, the configuration will be slightly different, but everything we've heard seems to suggest that most of the rides, restaurants, shops and experiences will be mostly the same.
Now how does this new Star Wars Land rendering match up with the rumored land layout posted by MiceAge? Lets take a closer look: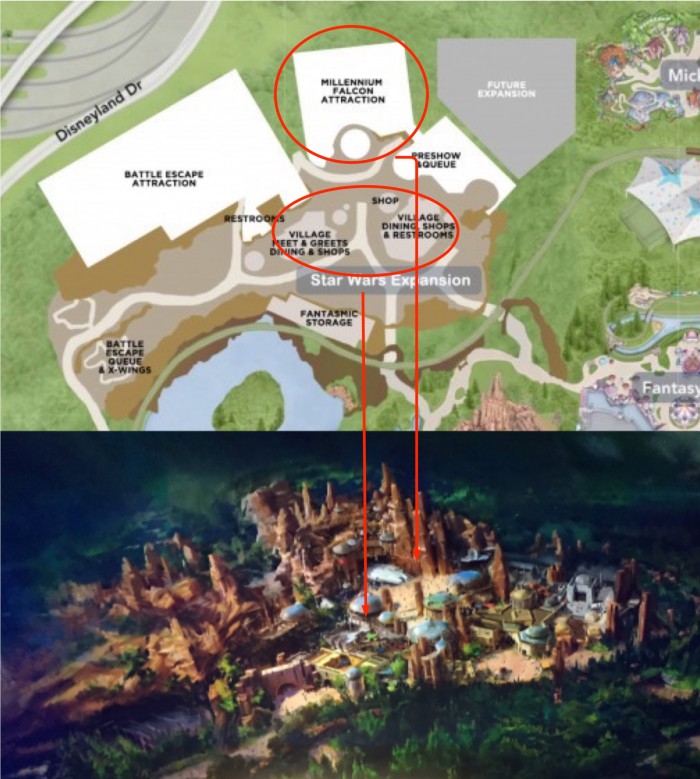 Some visible pieces seem to line up, like the Millennium Falcon attraction and the shops and market, although many of the details in this concept art are not visible enough to fully confirm the layout. But it does seem like we are looking at the right orientation — which means that is probably not Big Thunder Mountain in the background, as the famous coaster would be located south of this area. However, as Disneyandmore theorized, the rock pillars could serve as a backdrop to Frontierland and in effect not stick out as a weird new science fiction franchise addition in the background of the rest of Disneyland.