Vince Vaughn Will Fight A 'Brawl In Cell 99' For 'Bone Tomahawk' Director S. Craig Zahler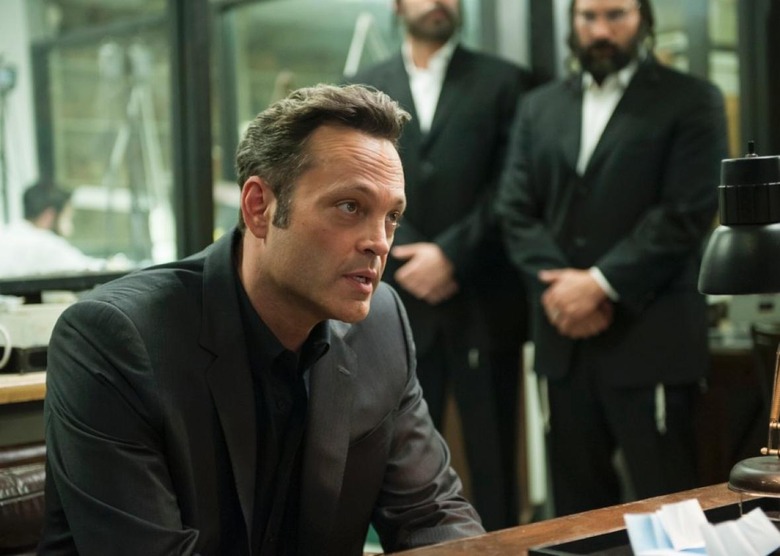 Author, musician, and filmmaker S. Craig Zahler impressed most critics with his directorial debut, Bone Tomahawk. Zahler's cannibal Western, which stars Kurt Russell and Richard Jenkins, may not have done stellar business at the box-office, but the movie has its fans, and perhaps Vince Vaughn is one of them. The actor has just signed up to star in the Bone Tomahawk director's new movie, Brawl in Cell 99, which Zahler also wrote.
Learn more about the Vince Vaughn Brawl in Cell 99 movie below.
The Hollywood Reporter says Vaughn will play the lead in Brawl in Cell 99, continuing to do more dramatic work. The actor was most recently seen in True Detective season two, which left a good amount of the show's fans disappointed, and Peter Billingsley's Term Life, a movie that was quietly released this month.
Zahler — who, it must be said, is very good with titles — will begin production on Brawl in Cell 99 towards the end of summer. Considering some of the most impressive parts of Bone Tomahawk involved brutal, unflinching violence, a more action-heavy movie, set in a prison, sounds like a promising followup from the director.
Here's the plot synopsis for Brawl in Cell 99:
Zahler's script centers on a former boxer (Vaughn) whose life is crumbling: He loses his job as an auto mechanic and his troubled marriage is about to expire. At this crossroads in his life, he feels that he has no better option than to work for an old buddy as a drug courier. This vocation improves his situation until the day he finds himself in a gunfight between a group of police officers and his own ruthless allies. When the smoke clears, the man finds himself in prison in a no-win situation as his enemies force him to commit acts of violence that turn the place into a savage battleground.
Vaughn definitely has the presence to play a believable action star, although it isn't a genre we've seen the actor in many times, especially during the height of his success. Since a few of Vaughn's recent comedies didn't fully land with audiences, he's been changing things up, appearing in productions maybe we wouldn't have expected to see him in a few years ago. Vaughn just wrapped on Mel Gibson's Hacksaw Ridge, an intriguing WWII drama that'll likely get released around awards season later this year, and Brawl in Cell 99 could, like Gibson's film, show another side of the actor.