Neill Blomkamp's 'Alien' Movie Is Still On, Says Sigourney Weaver: "It'll Be Worth The Wait"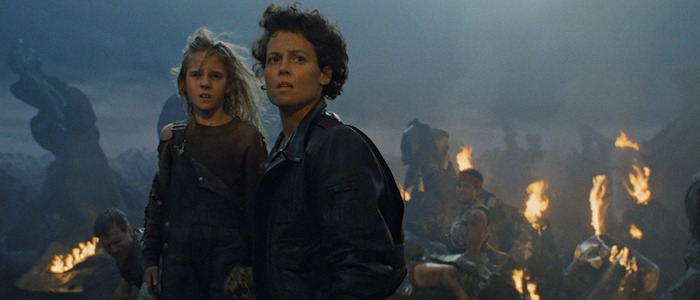 At one point, it looked like the Alien franchise could branch off into two directions, with Ridley Scott helming a series of Prometheus movies while Neill Blomkamp revived the Alien films. But then Blomkamp's Alien movie was put on hold and then delayed indefinitely while Scott finished Prometheus 2 – which was subsequently renamed Alien: Covenant. At this point, it's unclear when we'll see Blomkamp's planned Alien sequel. But star Sigourney Weaver assures fans the project is still on. It's just a matter of when. 
Aggressive Comix (via The Playlist) has a quote from Weaver's recent appearance at a VMware event. Asked for a status update on Blomkamp's Alien movie, the actress replied:
Well, I think it is. Ridley asked Neill not to make our Alien 'til after 'Prometheus 2.' [Ridley] wanted his movie to shoot and be released first. But it's an amazing script, and Neill and I are really excited about doing it. We're doing other things until we can get going on that. I'd be really surprised if we didn't do it, because it's such a great script, and we love working together. So, it's just going to take a little bit longer to get out to you, but it'll be worth the wait.
Originally, the plan was for Scott to produce Blomkamp's Alien movie, which would have been a sequel, as opposed to Scott's Prometheus films, which serve as a prequel. In November, actor Michael Biehn, who was set to reprise his role as Hicks, revealed that "the basic idea" is for Blomkamp's movie to ignore Alien 3 and 4, with Weaver's Ripley returning to pass on the torch to a now-grown Newt. "It would keep the franchise alive and the studios would make money, because that's what the bottom line is now: money," he said.
And because Biehn is absolutely right about studios wanting to make money, it's not hard to imagine Fox dusting off Blomkamp's movie at some point and getting the ball rolling again. Prometheus made good money but seemed to leave fans more baffled than excited, and Alien: Covenant is picking up with a mostly new cast of characters. A new Alien film that brings back Ripley — one of the most iconic action heroes in the history of cinema — is guaranteed to attract some buzz.
Whether we want Blomkamp's movie to get un-paused is another question, though. On the one hand, all that concept art sure did look cool. On the other hand, have you seen Elysium? Or Chappie? I'd probably be more excited about the prospect of Blomkamp directing a new Alien movie if he weren't also planning to write it. What do you think? Are you looking forward to Blomkamp's Alien, or hoping it stays on ice forever?
In the meantime, Scott's Alien: Covenant arrives August 4, 2017.