Pamela Anderson Returns To 'Baywatch'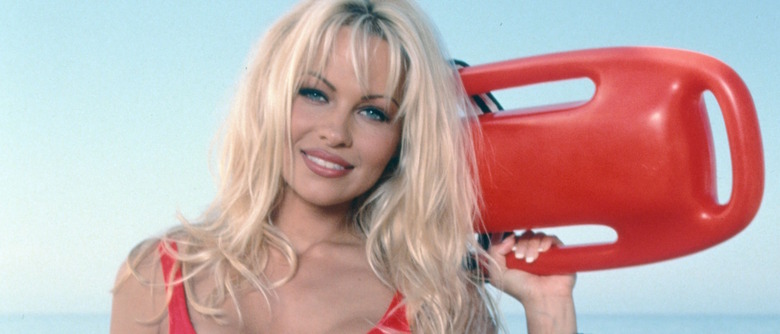 Pamela Anderson is returning to her old stomping grounds — or rather, her jogging-down-the-beach-in-delicious-slow-motion grounds. The former C.J. Parker has officially boarded the cast of the new Baywatch reboot, joining her old co-star David Hasselhoff and new leads Dwayne Johnson and Zac Efron. See the photographic evidence after the jump. 
Johnson posted the Pamela Anderson Baywatch photo on Instagram.
She introduced the world to "CJ Parker" and became one of the most iconic characters of a generation – for the most successful TV show of all time. A pleasure to welcome (as gorgeous as ever) Pamela Anderson to our #BAYWATCH cast. We couldn't have made this movie without you. Welcome home. Thrilled you had a blast with us! #BAYWATCH MAY 19, 2017. #PamAnderson #OS #OriginalSmokestack
A photo posted by therock (@therock) on
Anderson confirmed in February that she'd been approached a role in Baywatch, but at the time raised some doubts about whether she'd actually accept. "I haven't turned it down completely yet. But I have turned down what they offered me," she said at the time, adding that "it's an honor to have them to want me to be a part of it so bad." It seems the filmmakers have since been able to come back with an offer she liked better, and thank goodness for that. A lot of actors filtered through Baywatch over the years, but Anderson remains one of the most famous parts of the original series.
How exactly Anderson fits into the new Baywatch movie is unclear. In all likelihood, it'll be a small cameo rather than a full-fledged starring role. And unless the film is planning to go the flash-forward route or something, Anderson likely won't be playing C.J. Parker again – Johnson previously announced that model Kelly Rohrbach would be filling that role. Still, Baywatch just wouldn't be the same without Anderson so it's good to hear she's back.
In addition to Anderson, Hasselhoff, Johnson, and Efron, Baywatch also stars Alexandra D'Addario, Ilfenesh Hadera, Priyanka Chopra, Hannibal Buress, and Jon Bass. The very first footage from Baywatch premiered at CinemaCon earlier this month, and you can get Peter's impressions here (Baywatch talk starts around the 12:30 mark).
Baywatch splashes into theaters May 19, 2017. Seth Gordon directs.