New 'Independence Day: Resurgence' Trailer Arrives Just In Time For Earth Day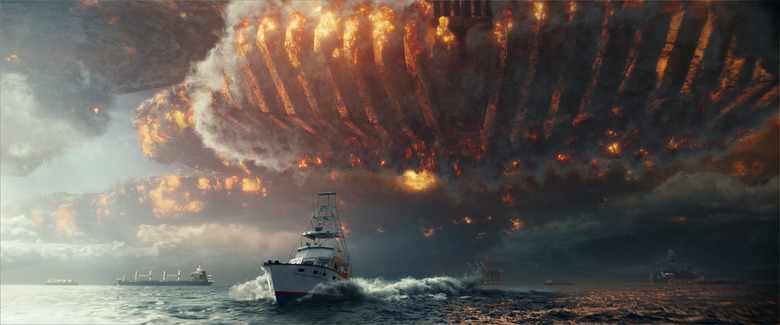 Today is Earth Day, and what better way to celebrate our beautiful planet than by gleefully looking forward to its complete and utter destruction? 20th Century Fox has just unveiled the latest Independence Day: Resurgence trailer, which sees the aliens returning 20 years later, stronger and more brutal than ever before. Jeff Goldblum, Bill Pullman, Vivica A. Fox, and Brent Spiner return from the original, while Liam Hemsworth, Maika Monroe, and Jessie Usher lead a new generation of Earth Space Defense pilots.
Oh, and to celebrate Earth Day in less ironic fashion, 20th Century Fox has also dropped a new Earth Day PSA featuring Earth Space Defense director David Levinson (Goldblum) explaining different ways we at home can help save the planet. Plus, to get that patriotic spirit going, they're offering a download of the original Independence Day for just $0.99. Get the details, and watch both the new Independence Day: Resurgence trailer and the Independence Day Earth Day PSA after the jump. 
First, here's the Independence Day: Resurgence trailer, which is packed with action.
The best part of that trailer is Jeff Goldblum, so here's some more of him below.
Goldblum might actually be too charismatic for this movie. Liam Hemsworth is cute and all, but who cares about his drama when we could be spending time with David Levinson instead?
Anyway, here's one more thing to add to your Earth Day to-do list: For a limited time only, 20th Century Fox is making the original Independence Day available to download for just $0.99 on Google Play, with all proceeds going to the Earth Day Network. And if you'd like some company while you watch the amazing 1990s classic you just downloaded, you can participate in "a global #IndependenceDayLive Earth Day Watch Party" starting at 4 PM Pacific time today, by following #IndependenceDayLive and @IndependenceDay.
Independence Day: Resurgence opens June 24, 2016.
We always knew they were coming back. After INDEPENDENCE DAY redefined the event movie genre, the next epic chapter delivers global spectacle on an unimaginable scale. Using recovered alien technology, the nations of Earth have collaborated on an immense defense program to protect the planet. But nothing can prepare us for the aliens' advanced and unprecedented force. Only the ingenuity of a few brave men and women can bring our world back from the brink of extinction.