You Can Already Start Celebrating Alien Day By Marveling At These Mondo Alien Posters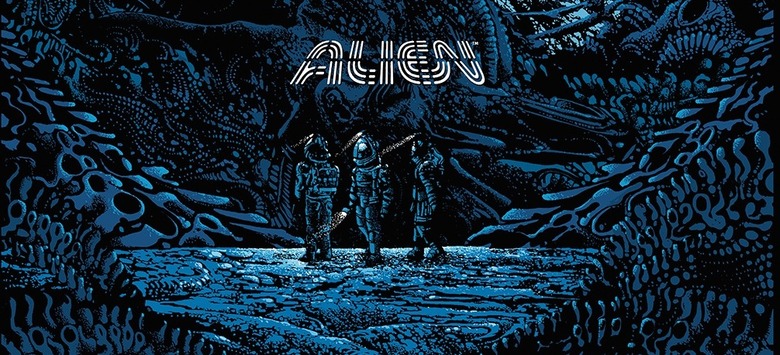 Earlier this month, 20th Century Fox announced Alien Day, an event meant to celebrate the Alien franchise. The Alamo Drafthouse and other select theaters will play a double-feature of Alien and Aliens, and they'll be providing and selling fans all sorts of merchandise and goodies. To help celebrate the event, Mondo has debuted new posters for the 20th Century Fox films.
Check out the Mondo Alien posters below.
Back in October, Mondo creative director Jay Shaw had a meeting with Fox, to discuss licensing and other business matters. During the meeting, Alien Day was mentioned, which, of course, got Shaw and the rest of the Mondo team excited. They ended up leaving the meeting with "a laundry list of 50 things" they wanted to do for the celebration.
Artists Kilian Eng, Mike Saputo, and Shaw created new posters for the big day, and Inverse just ran the first look at them. The outlet also spoke with Jay Shaw about the designs, the artists involved, and more. Here's what he had to say about the following posters and artists:
"Alien" by Kilian Eng, Edition of 300, 24"x36" Screen Print, Printed by D&L Screenprinting: $50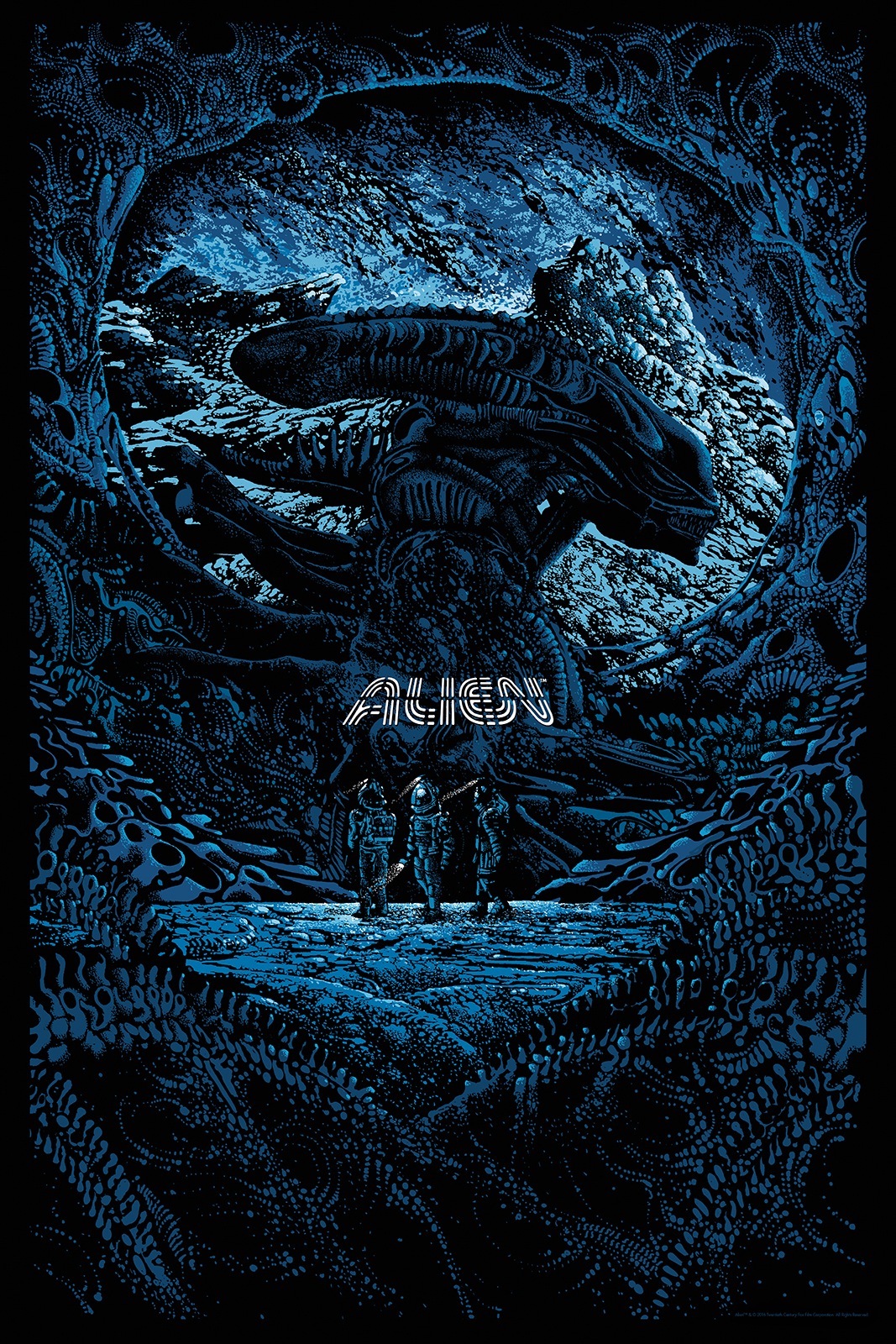 Note: Inverse asked about the similarities between Eng's Alien and Alien posters, the latter having already been sold and used as the cover for the vinyl soundtrack released by Mondo.
We actually asked Kilian to do everything, almost with the hopes that we would eventually put everything out. Kilian built out all this stuff at the same time, but Aliens just happened to be one that we had ready first, and now Alien.
But he's done even more than that, and they're all coherent. He told us he had an idea for Alien, Aliens, and beyond, and he came up with the basic design framework for each of the films with the looming xenomorph and the human crew underneath. You don't want the exact same design across the board, but having a common thread is nice to make a series. When all of it comes out and you have your posters and soundtrack covers it's going to look really nice together.
"Alien" by Mike Saputo, Edition of 225 (Regular), 24"x36" Screen Print, Printed by D&L Screenprinting: $45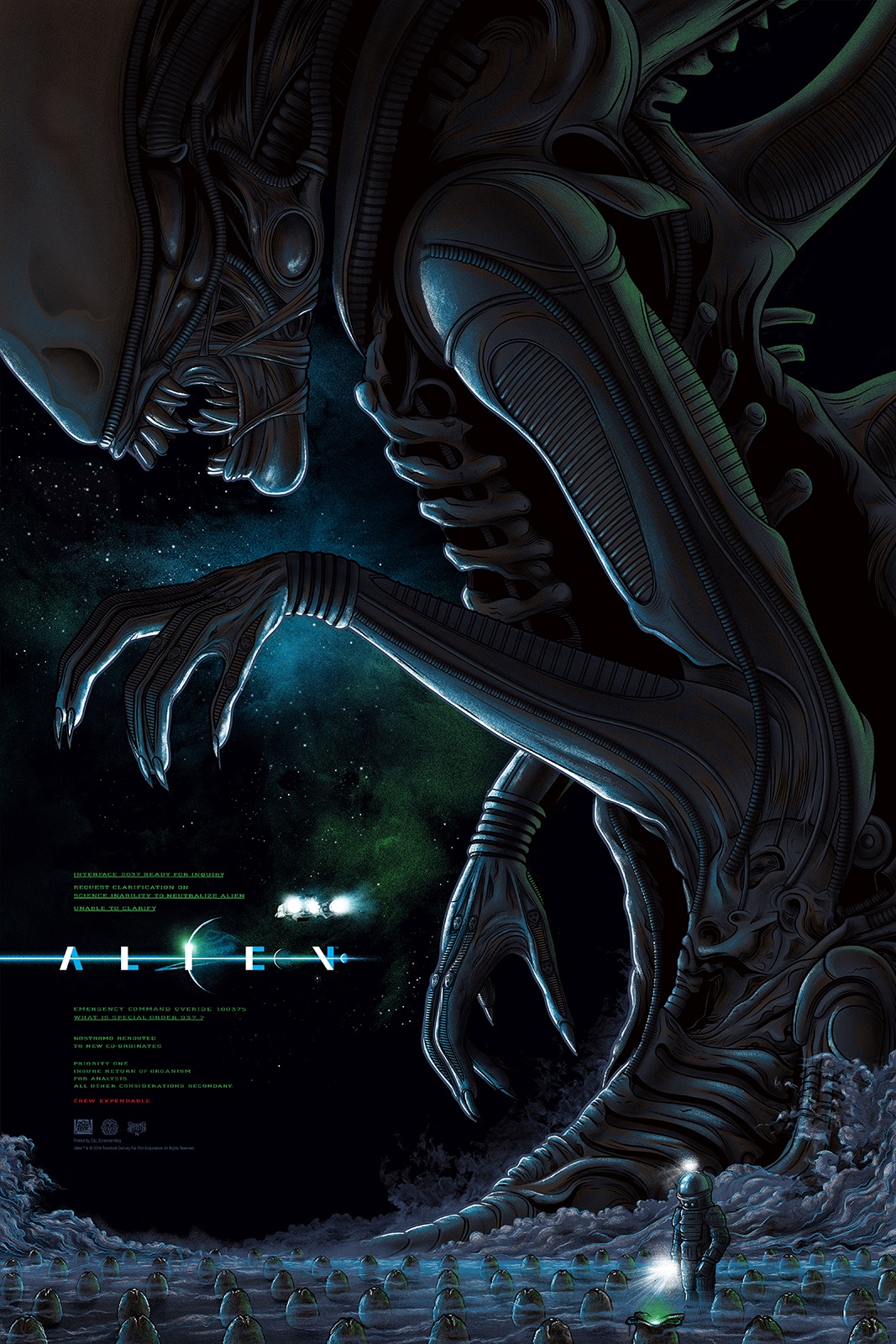 It's tough to attack the Alien films without recognizing the alien itself. Mike submitted a couple of sketches and it was tough for everybody to decide which was going to be the one. But he'd been doing crazy elaborate creature designs and it made sense to let him go all out with the xenomorph. It's a similar take to Kilian but it's a little different. It's Mike's style with the xenomorph coming out of the space jockey structure.
Alien (Variant)" by Mike Saputo, Edition of 125, 24"x36" Screen Print, Printed by D&L Screenprinting: $65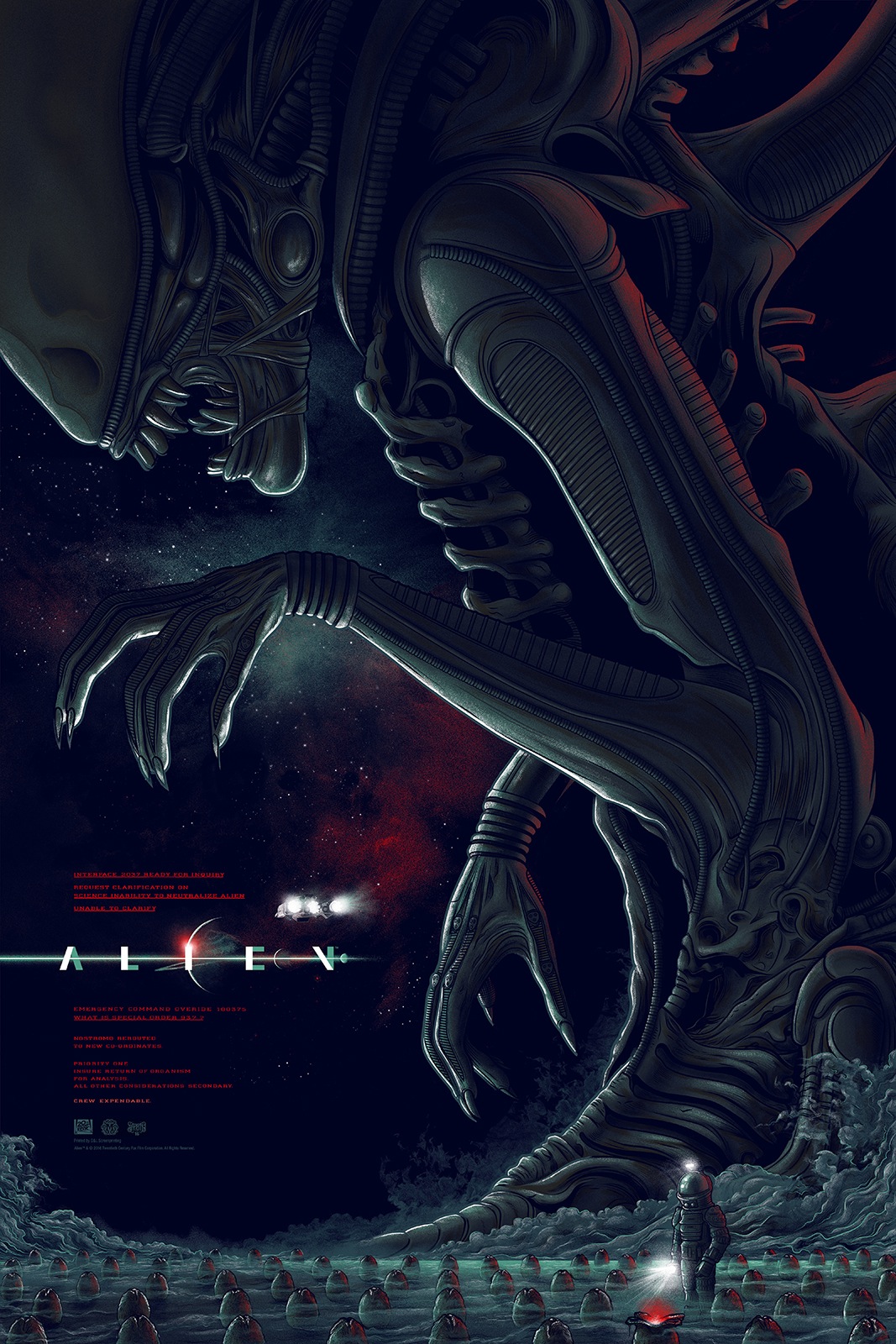 "Alien" by Jay Shaw, 18"x24' Solvent Print on 9mil Front Print Backlit Polyester Film, Edition of 70, Printed by CBS Graphics: $60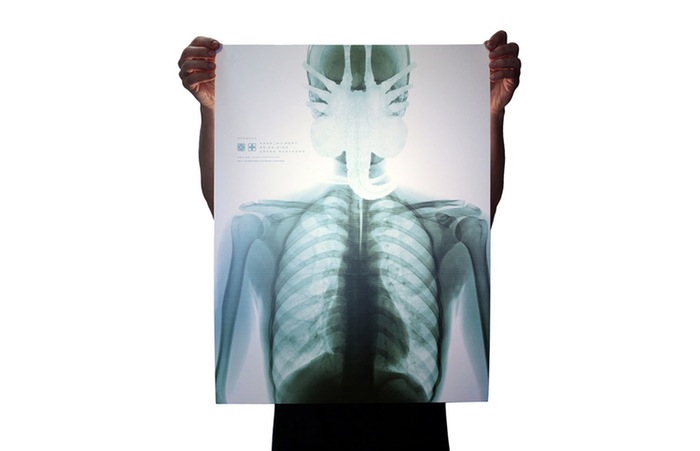 How can you acquire one of these posters? On Alien Day, the posters will go on sale at MondoTees' official site. They'll be on display and available for purchase at the Alamo Drafthouse's South Lamar location. A t-shirt, featuring a publicity shot of Ripley, will also be sold at the Alamo Drafthouse's New York and Los Angeles locations.
Alien Day is on April 26th.