Rumor: 'Wolverine 3' To Introduce X-23?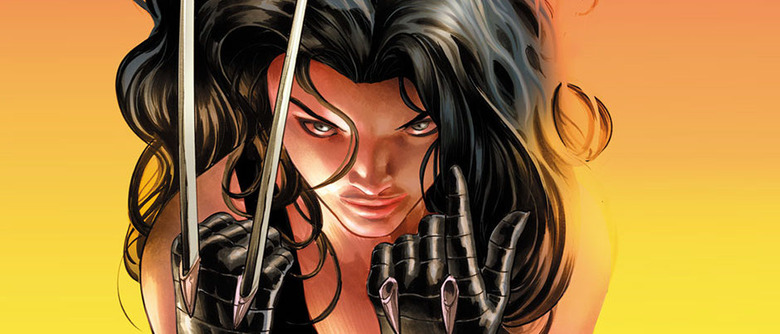 Wolverine 3 will be the final hurrah for X-Men star Hugh Jackman, who's been playing the mutant superhero since 2000. He's already survived through five X-Men movies and two solo spinoff, and logged time with both the original cast and their younger counterparts. Now Jackman wants to hang up the claws, and his Wolverine certainly deserves to ride off into the sunset and live happily ever after.
But while Wolverine 3 marks an end for Jackman's version of the character, it'll be a brand-new beginning for another mutant. Rumor has it Wolverine 3 will mark the big-screen debut of X-23, a popular comic book character who's got more than a few things in common with the cantankerous Canadian himself. 
The X-23 rumor comes to us from SuperHeroHype. While they're generally reliable, we'll still caution you that neither Fox nor anyone involved with the production has confirmed the story on record. In other words, take it with a little sprinkling of salt. Anyway, their sources indicate X-23 will be tagging along with Wolverine and Professor X (played once again by Patrick Stewart) in the new movie.
X-23, also called Laura Kinney, first appeared in the animated series X-Men: Evolution before making her way to the comics. The result of a Weapon X experiment to clone Wolverine, she has the same accelerated healing factor and adamantium skeleton. She was raised in captivity to be a killing machine, but was eventually able to break free of Weapon X and try to reclaim her life. She's been affiliated with X-Force and the X-Men, and now headlines her own comic book title as the "All-New" Wolverine.
There's no word yet on who might play X-23, but if this rumor pans out she should make for an exciting addition to the X-Men universe, especially since the original Wolverine on his way out. And if the character proves a hit, the possibilities seem endless. Although Wolverine 3 takes place in the future, she could theoretically appear in other movies set at other points along the series' timeline — thanks to that healing factor, she, like Wolverine, ages more slowly than a normal human or mutant.
Wolverine 3 will be based on Mark Millar and Steve McNiven's "Old Man Logan" comic book arc, which unfolds in a dystopian future ruled by supervillains. The former Wolverine has long since retired, but gets sucked back into superhero drama when he agrees to accompany an old friend on a journey. Boyd Holbrook will play the villain, believed to be an original character as opposed to one from the existing onscreen franchise or the comics. James Mangold is directing from a script by David James Kelly.Wolverine 3 is scheduled to arrive March 3, 2017.