Which 'Breaking Bad' Character Almost Appeared In The 'Better Call Saul' Season 2 Finale?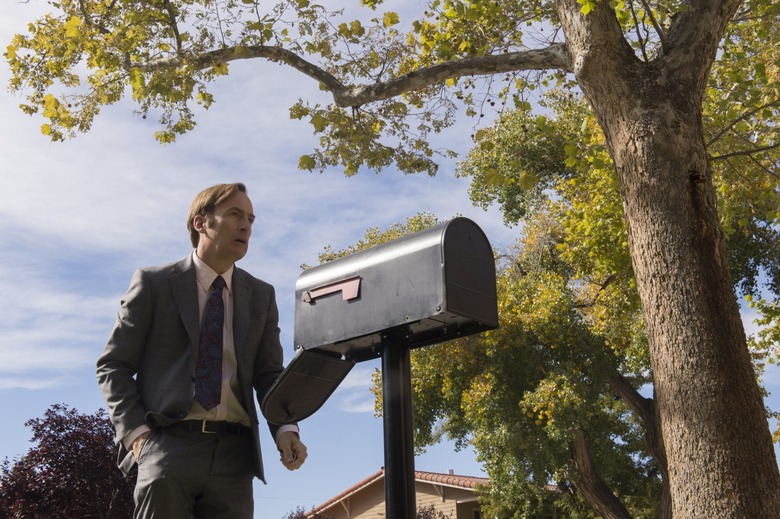 The season 2 finale of Better Call Saul brought all sorts of dramatic developments and gut-wrenching twists, but it turns out the show almost had one more surprise for us. Seres creator Vince Gilligan (who also directed the episode) revealed that he originally planned for a certain Breaking Bad character to make a cameo, only for his team to talk him out of it. Find out who it was, and why the appearance was scrapped, after the jump. Obviously, Better Call Saul season 2 spoilers follow. 
Speaking with Entertainment Weekly, Gilligan revealed he originally wanted Betsy Brandt's Marie to appear in the episode:
We talked about it at length in the writers' room and I thought it would be a fun idea. Since Chuck was in the hospital and was about to get a CAT scan, I thought it'd be a fun for Hank's wife, Marie, played by the gorgeous Betsy Brandt to be the one operating the machine, since as we know she's an X-ray technician. I thought it would be a great and organic opportunity to bring back one of our fundamental Breaking Bad characters, and Peter and the other writers rightly talked me out of it. Not because they don't love Betsy just as much as I do but it would have distracted the viewer in the moment. It was a big moment in which we wanted to stay squarely inside of Chuck's head as he goes through the terror and the agony of the scan. If our attention was diverted by Betsy, it would sort of dull the moment as it were, dramatically.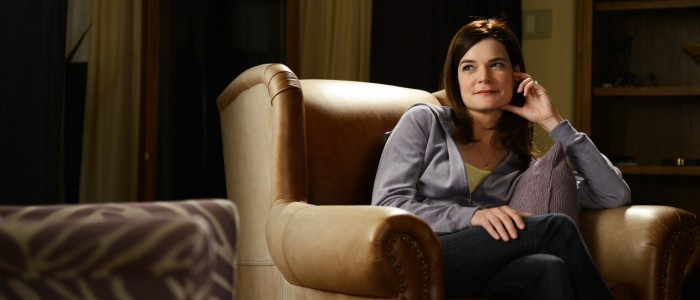 As cool as it would have been to see Marie drop in for a cameo, Peter Gould and the other writers probably made the right call. The scene in question is all about Chuck (Michael McKean), who suffers from an (apparently psychosomatic) electomagnetic sensitivity. As a result, a routine CAT scan that would be a mild annoyance for a normal person is complete torture for him. The scene is shot in such a way that we're completely with Chuck in his panicked state.
Bringing Marie into the scene would've taken away from the impact of both Chuck's experience and her surprise appearance. And while season 2 of Better Call Saul brought more Breaking Bad characters into the fold, the show has been careful about when and where and how it uses these characters. The return of Hector (Mark Margolis), for example, wasn't just a cheap gimmick to gin up the ratings — he was reintroduced organically and has become a powerful adversary for Mike (Jonathan Banks).
While Marie didn't make it into the season 2 finale, Gilligan says they may still find another place for her on the show down the road. "Anything's possible," he teased. "We love her, we love our key players from Breaking Bad. We'd love to see all of them, selfishly speaking. The problem for us is to be self-disciplined enough not to just throw them all willy-nilly into every single episode."
As for that other Breaking Bad character, the one whose return seemed to be hinted at in the season 2 episode titles and then even more strongly hinted at with the mysterious note left for Mike Ehrmentraut? Gilligan told HitFix it was "never the intention" to feature Giancarlo Esposito's Gus Fring in the Better Call Saul season 2 finale, though they acknowledge they were dropping clues all along:
[W]e report this a bit sheepishly: we truly did not realize how smart our fans are. That is to our detriment. We thought that we would have more control of this little puzzle we put into the titles (where the first letters, rearranged, spell out "FRINGS BACK") where we thought that today, Peter could Tweet, "Hey guys, check out the titles of this season! You might find something interesting embedded in them." That way, as people were asking the question — "Who could have left that message in the windshield of Mike's car?" — the little clue could have pointed to an answer to that. But because these folks are so smart, and because they got ahead of us, they changed the story on us, suddenly it looks to the world like, "Oh, man, Gus should have been in that episode. That was a bit of a bait-and-switch!" The clue got out way before the intended time for it to get out.
What's more, Gilligan cautions we might not see Fring for some time yet:
And to take it a step further, people should not assume in any way, shape, or form that they'll see Gus in the first episode of next season. It's possible they will. It's also possible, if not more possible, they won't. Gus is a character, as we know from Breaking Bad, who casts a very long shadow, and has a great many agents doing his bidding. He's a guy who's very hard for Walter White to pin down when Walt met him, and I think that will continue to be the case. That is his character, as I understand it. He is not a guy who reveals himself very quickly.
It shouldn't come as a huge surprise that Fring will return down the road. After all, we already know that by the events of Breaking Bad, Mike and Saul (née Jimmy) and Gus have all done business with each other. So just think of this as a fun reminder of the dark fates that await our antiheroes. Or perhaps a depressing reminder, if you're finding Jimmy's descent into Saul-dom to be more heartbreaking than thrilling.