'Justice League' Scoops Up Former 'Spider-Man' Villain Willem Dafoe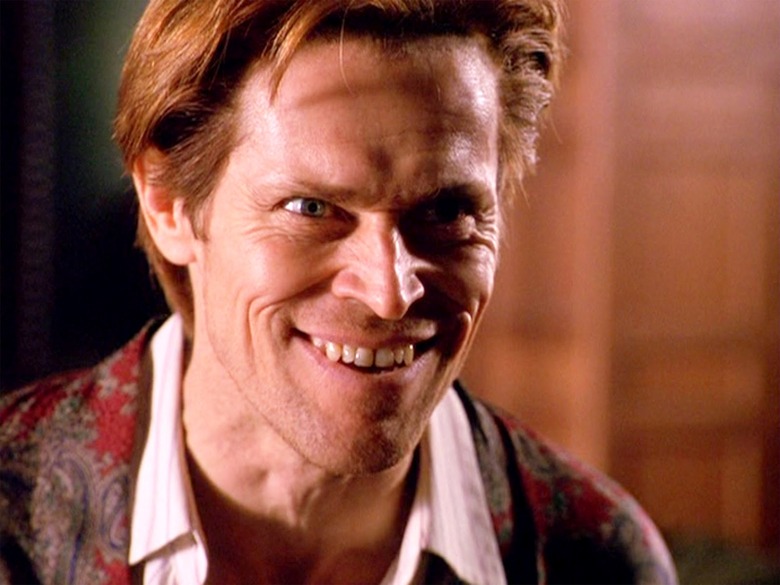 Justice League may be a DC Comics adaptation, but it's going to star a whole lot of Marvel vets. First Warner Bros. scooped up Ben Affleck from the ashes of that Daredevil movie, and then they picked up J.K. Simmons from the Sam Raimi Spider-Man films. Now they've made room for one more Spider-Man alum: Willem Dafoe, who played the villainous Green Goblin in that universe but will get to be a good guy here. The Hollywood Reporter got the scoop on the Justice League Willem Dafoe casting. Details on his character are unclear, other than that he'll be a good guy and not a villain. Dafoe will appear in both parts of Justice League, due out in 2018 and 2019. Dafoe's recent (non-superhero) roles include John Wick, The Fault in Our Stars, and The Grand Budapest Hotel.
Besides Dafoe, Justice League stars Affleck as Batman, Henry Cavill as Superman, Gal Gadot as Wonder Woman, Jason Momoa as Aquaman, Ezra Miller as the Flash, Ray Fisher as Cyborg, Amy Adams as Lois Lane, and Simmons as Gotham City police commissioner James Gordon. In very vague terms, Justice League sees its superheroes "teaming up to combat a threat beyond each member's capabilities." Otherwise, plot details are being kept under lock and key — although Batman v Superman: Dawn of Justice hinted at Darkseid being the big bad.
Dafoe is far from the only star who's found himself starring in multiple superhero franchises. Ryan Reynolds went from Marvel (X-Men Origins: Wolverine) to DC (Green Lantern) back to Marvel again (Deadpool). Chris Evans made the jump from one Marvel universe (Fantastic Four) to another (Captain America). And just last week we heard about former Batman Michael Keaton joining Sony and Marvel's Spider-Man: Homecoming. It's just what happens when superhero movies, as a genre, become so big and ubiquitous that it's easier to name actors who haven't done one of these movies.
Zack Snyder is directing both halves of Justice League from a script by Chris Terrio, and will also produce along with Deborah Snyder and Charles Roven. Shooting on the film began earlier this month. Justice League: Part One opens November 17, 2017, and Justice League: Part Two on June 14, 2019.