First 'Iron Fist' Set Photos Reveal Finn Jones As Danny Rand; More Casting Updates Announced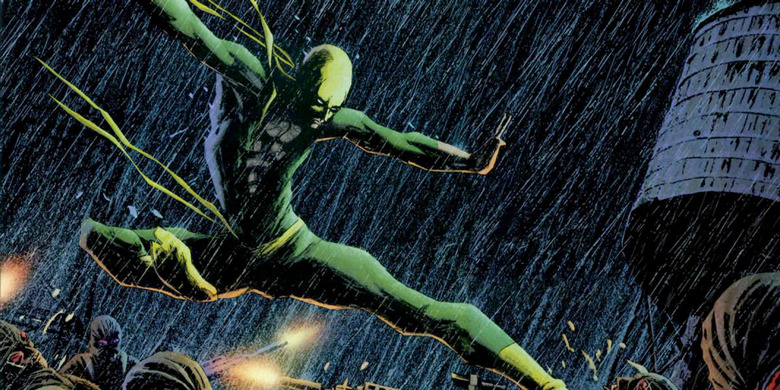 Shooting on Netflix's next next Marvel drama, Iron Fist, is finally underway, and that means the first photos of Finn Jones as the eponymous superhero have hit the web. Meanwhile, behind the scenes, the show has also locked in the final pieces of its main cast. Jessica Stroup and Tom Pelphrey join the Netflix and Marvel drama as Joy and Ward Meachum, children of Harold Meachum (David Wenham). Get all the latest Iron Fist updates below.
Marvel announced the latest Iron Fist casting, and shared this cute little image to tease the relationship between Danny and the Meachum siblings.
They thought Danny was gone forever. #IronFist https://t.co/Axs5PfYmij pic.twitter.com/is5Vd1Sjl0

— Iron Fist (@MarvelIronFist) April 18, 2016
As the photo suggests, Joy and Ward grew up with Danny. But while Danny disappeared into God-knows-where to do God-knows-what, Joy and Ward spent years carefully building Rand Enterprises into what it is today. All their hard work is threatened when Danny reappears out of the blue, and in turn, Danny's mission as Iron Fist is complicated by these former friends of his. The Iron Fist casting is a deviation from the comics, where Ward is Harold's brother and Joy's uncle, not her brother.
Executive producer and showrunner Scott Buck teased some twists and turns for the Meachum family:
I'm very happy to have Jessica and Tom as our Joy and Ward Meachum. Much like Danny Rand's past is a mystery to us, we'll discover along the way that the Meachum children have intriguing secrets of their own.
Stroup's credits include The Following and that 90210 reboot. Pelphrey is a soap opera vet (he starred on Guiding Light and As the World Turns) who was most recently seen in Banshee. They complete Iron Fist's core cast, which also includes Jones, Wenham, and Jessica Henwick as Colleen Wing.
Meanwhile, shooting on Iron Fist has finally gotten underway in New York City, and the first photos of Jones in costume have hit the web. Go here to check 'em out — they make Danny look like a college stoner, from his Baja-style sweater to his bare feet. (Yes, bare feet on New York City sidewalks. Here's hoping Jones has an excellent health insurance policy.) He's also sporting what looks like an old-school iPod, which could indicate that this is a flashback... or just that K'un-Lun has yet to get an Apple Store.
Netflix hasn't announced a premiere date for Iron Fist, but it's expected to arrive in late 2016 or early 2017, after Luke Cage and before The Defenders.
In "Marvel's Iron Fist," Daniel Rand returns to New York City after being missing for years. He fights against the criminal element corrupting New York City with his incredible kung-fu mastery and ability to summon the awesome power of the fiery Iron Fist.