Dwayne Johnson To Star In 'Jumanji' Remake [UPDATED]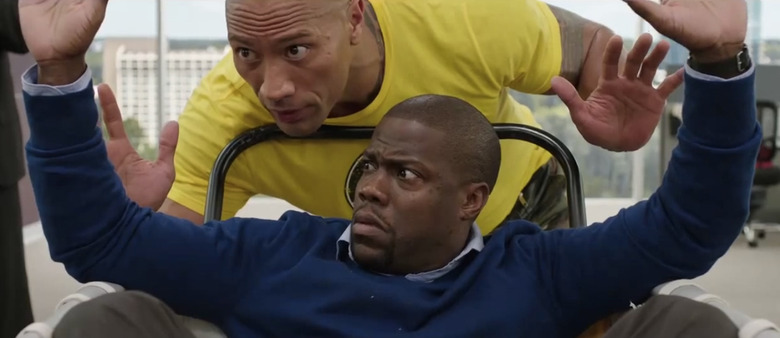 UPDATE: Dwayne Johnson just confirmed on his Instagram that he'll produce and star in Jumanji. The actor and his production company, Seven Bucks Productions, plan to "edge up the script." There's still no word if Kevin Hart will co-star. Our original story from April 16, 2016 follows.Dwayne Johnson and Kevin Hart star in this summer's comedy Central Intelligence together, but before that movie even hits theaters, they're already considering another collaboration. Johnson and Hart are in early talks for Jake Kasdan's new adaptation of Jumanji, which was previously turned into a movie back in 1995.
Learn more about Johnson and Hart potentially joining the Jumanji cast after the jump.
Variety says Sony is interested in the two actors headlining Jumanji. The problem is, both Johnson and Hart are two incredibly busy men. Johnson is shooting Baywatch at the moment, which he'll then followup with Fast 8, season three of HBO's Ballers, and, although it might get pushed back, New Line's video game adaptation of Rampage. Jumanji starts shooting around the beginning of fall, so if Rampage does get postponed, it'll create time in Johnson's schedule for Kasdan's film.
Kevin Hart, on the other hand, is working on The Weinstein Company's remake of The Intouchables this summer, starring alongside Bryan Cranston. Variety explains working around both Hart and Johnson's schedules is the potential deal breaker, but the outlet's insiders tell them a deal is still moving forward.
With the duo potentially starring in the remake, perhaps Sony wants to take Chris Van Allsburg's story in a far more comedic direction. Robin Williams brought a comedic energy to the original Jumanji, but there was also a sense of sadness to his character and the story. There is an emotional arc to Joe Johnston's film, as broad as it is at times.
Hiring Jake Kasdan to direct the remake certainly was a sign of what sort of tone to expect. The director behind Walk Hard: The Dewey Cox Story, Orange Country, and The TV Set, a slightly overlooked film, has primarily worked in comedy. Kasdan hasn't ever directed a film on the scale of Jumanji, but he tends to make very funny movies. If Johnson and Hart do sign up, there's potential here to make a fun adventure comedy with Kasdan and the acting duo involved.
We'll see how Johnson and Hart work together this summer. If Central Intelligence ends up being a box-office hit, then it'll make for a wise move on Sony's part to land the two actors for Jumanji. Even if the summer comedy doesn't click with audiences, although that seems unlikely, Dwayne Johnson and Kevin Hart would remain two actors that could probably help make Jumanji a huge success.
Jumanji opens in theaters July 28th, 2017.