LOL: Microsoft's CaptionBot Describes The Best Films Of 2015 In Unintentionally Profound And Hilarious Ways

This week, Microsoft released CaptionBot, the company's attempt at showcasing the capabilities of Microsoft Cognitive Services. The promise and potential of CaptionBot is immense. By using natural language capabilities and image recognition software, CaptionBot can analyze any image and tell you what is happening within. CaptionBot joins How Old Do I Look? and What Dog? as Microsoft bots that have gained some amount of viral notoriety over the past couple years.
While CaptionBot can sometimes be startlingly accurate, it is clear there are still a few kinks to work out. Nonetheless, I couldn't help but wonder how it would analyze still images from some of the best films of 2015. The results are mostly bizarre, often hilarious, and sometimes profound. Note: All of the following captions were created by uploading images straight to CaptionBot.
The Revenant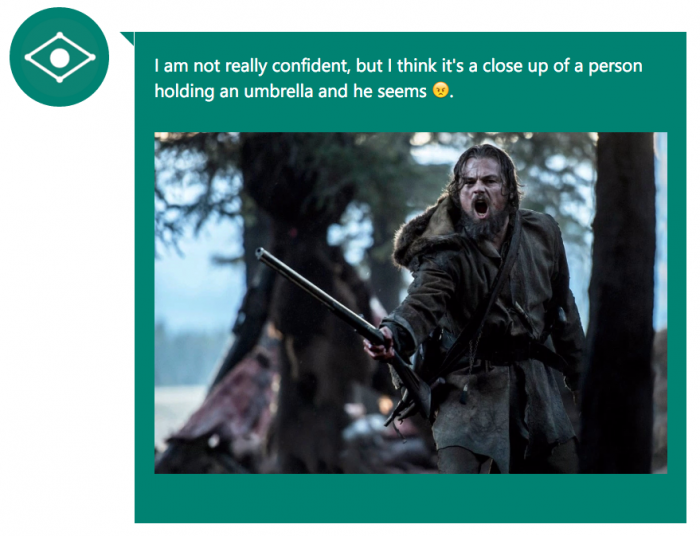 While CaptionBot has mistaken a gun for an umbrella, it accurately reads Leo's expression as being pretty upset in this image.
Inside Out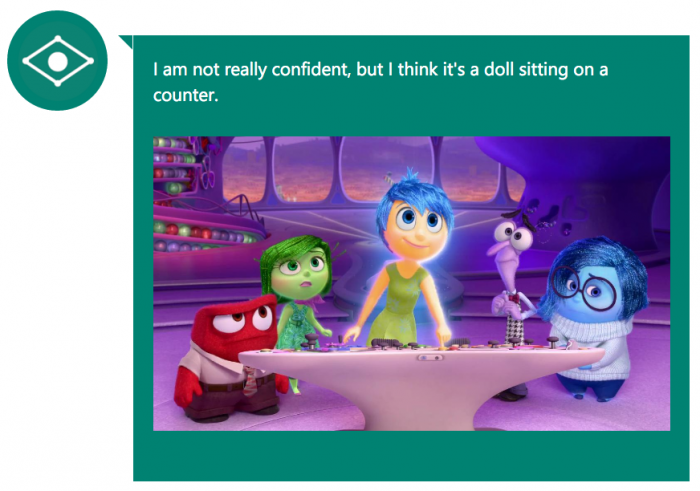 Odd way of referring to Joy, or commentary on Pixar's merchandising of its characters?
Mad Max: Fury Road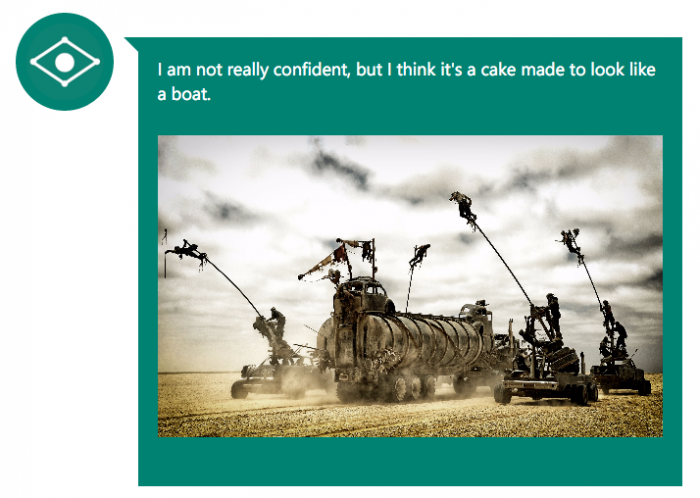 CaptionBot is more aspirational here, as Mad Max: Fury Road suffered greatly from its lack of cakes and cake-shaped vehicles.
Carol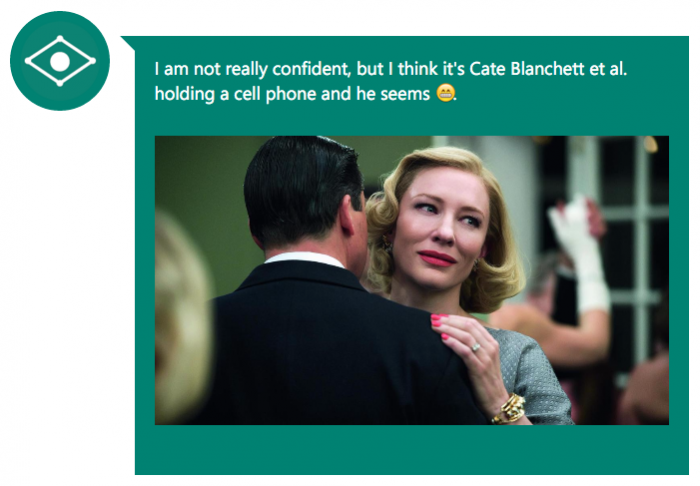 CaptionBot rightly dismisses Kyle Chandler's Harge as a "cell phone" in the sense that his presence in Carol's life is mostly utilitarian, and occasionally the cause of heartbreak and frustration.
The Martian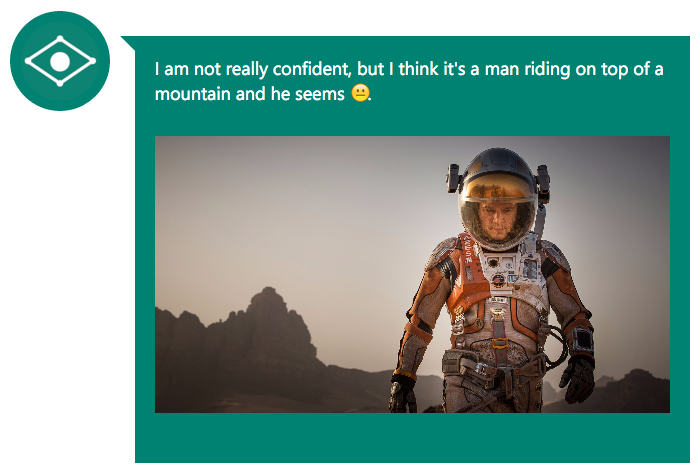 Matt Damon definitely overcame many obstacles throughout his interplanetary journey in The Martian.
Ex Machina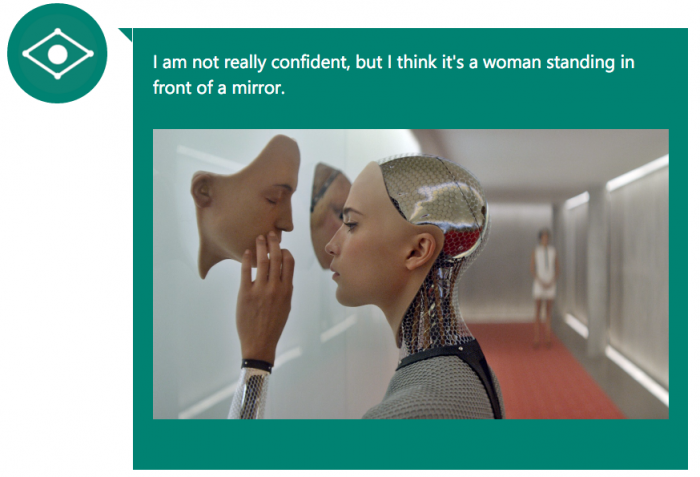 CaptionBot is more accurate here than it understands.
The Hateful Eight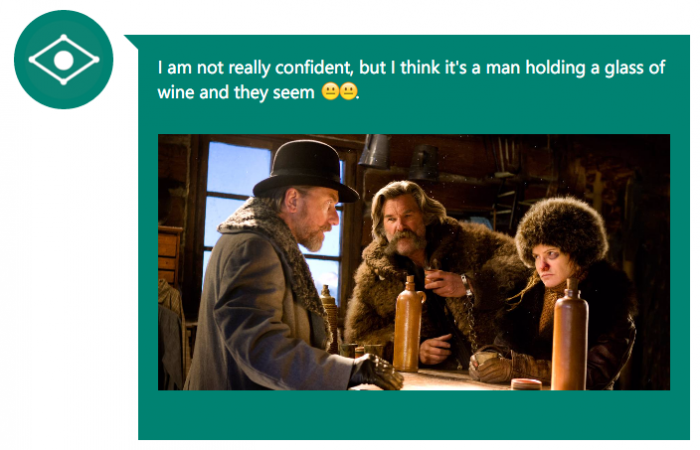 CaptionBot accurately reads the distress emanating from the characters in this tense conversation held within Minny's Haberdashery.
Star Wars: The Force Awakens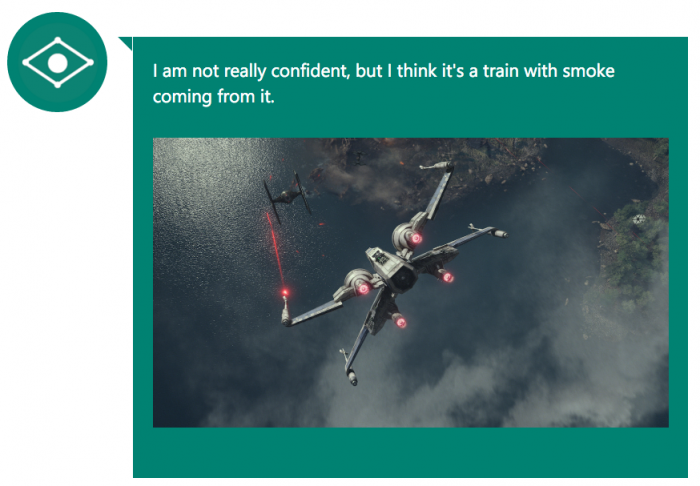 Unfortunately, CaptionBot still has a lot of work to go before it can adequately recognize any objects within the Star Wars universe.
Straight Outta Compton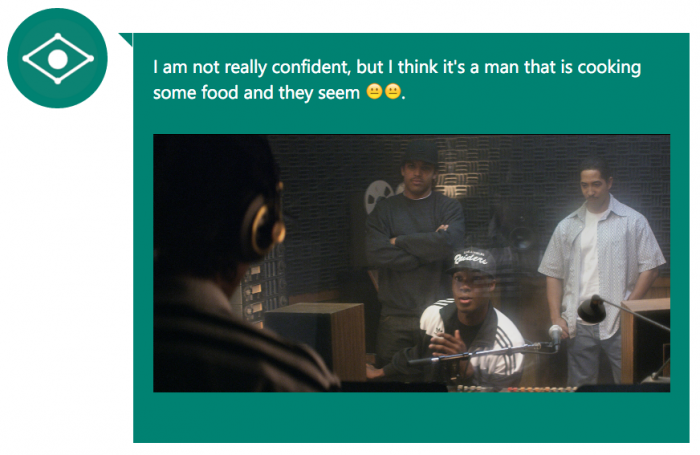 They're cooking something, alright.
Spotlight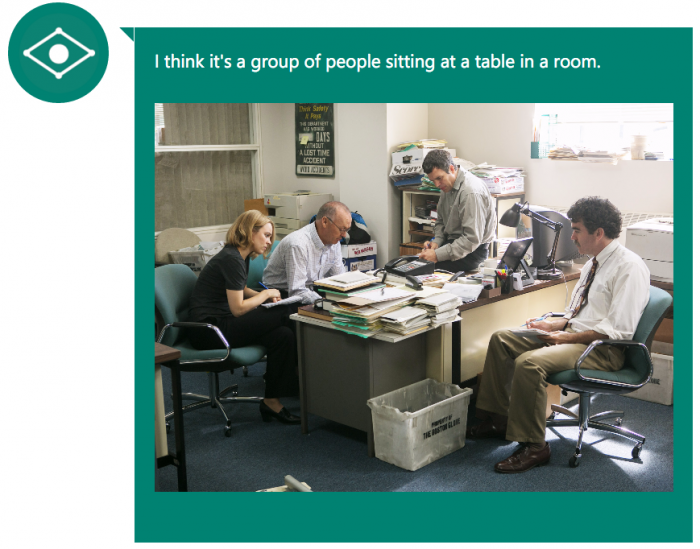 Nailed it.