Rumor: Vulture To Swoop By 'Spider-Man: Homecoming'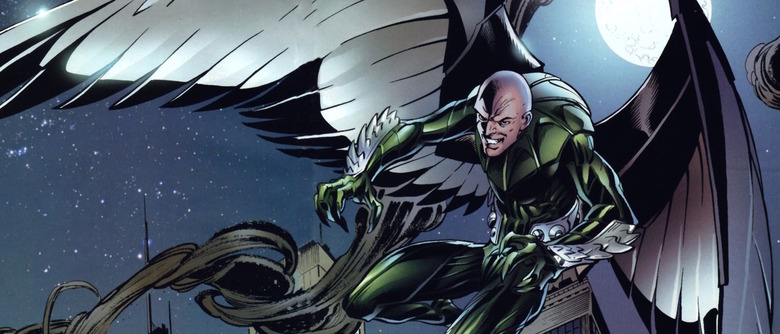 As hungry as we are for any crumb of information about the new Spider-Man standalone movie, Marvel and Sony have been very careful about doling out details. We only just learned at CinemaCon that the movie would be called Spider-Man: Homecoming. And although we know a few of the actors who'll star — Tom Holland, Marisa Tomei, Zendaya — we haven't much clue about what their characters are actually doing in the movie.
So until we do, the rumor mill is here to churn out speculation about the stuff we don't know. The latest salt-worthy report claims that the Vulture is going to be in Spider-Man: Homecoming, although not necessarily as the big bad. 
Birth.Movies.Death broke the Spider-Man Vulture story. While they're not the type to just make stuff up, Sony and Marvel haven't said a peep about Vulture either way, so until they do keep in mind that this is just a rumor. In any case, they've heard that Vulture will swoop by Spider-Man: Homecoming, but also that he won't be the main villain. Meaning he'll probably go up against Spider-Man, but may be dispatched early on or serve as a henchman for the film's true baddie (whoever that turns out to be).
The Vulture has been antagonizing Spider-Man for almost as long as Spider-Man has existed, making his debut in a 1963 issue of The Amazing Spider-Man. While a few different characters have used the Vulture code name over the years, the original and best known is Adrian Toomes. A former electronics engineer, he sports a special harness that allows him to fly and enhances his strength. He's typically portrayed as an old man, in stark contrast to the young and nimble Spider-Man.
The character's big-screen debut has been a long time coming. Sam Raimi originally planned to introduce the Vulture in Spider-Man 4, with John Malkovich already on board for the role — only for Sony to scrap that film entirely in favor of a hard reboot. The director of that reboot, Marc Webb, hinted in The Amazing Spider-Man 2 that Vulture could appear in The Amazing Spider-Man 3 or Sinister Six, only for those plans to get trashed as well, in favor of yet another reboot.
Maybe the third time's the charm, and Spider-Man: Homecoming director Jon Watts will have better luck.
Beyond the possible inclusion of the Vulture, we've heard that Spider-Man: Homecoming will be in the vein of a John Hughes movie, with greater emphasis on the character's sense of humor and his youth. John Francis Daley and Jonathan F. Goldstein are writing the script. Spider-Man: Homecoming is out July 7, 2017.